•
•
•
•
•

UCU president Congress 2018 speech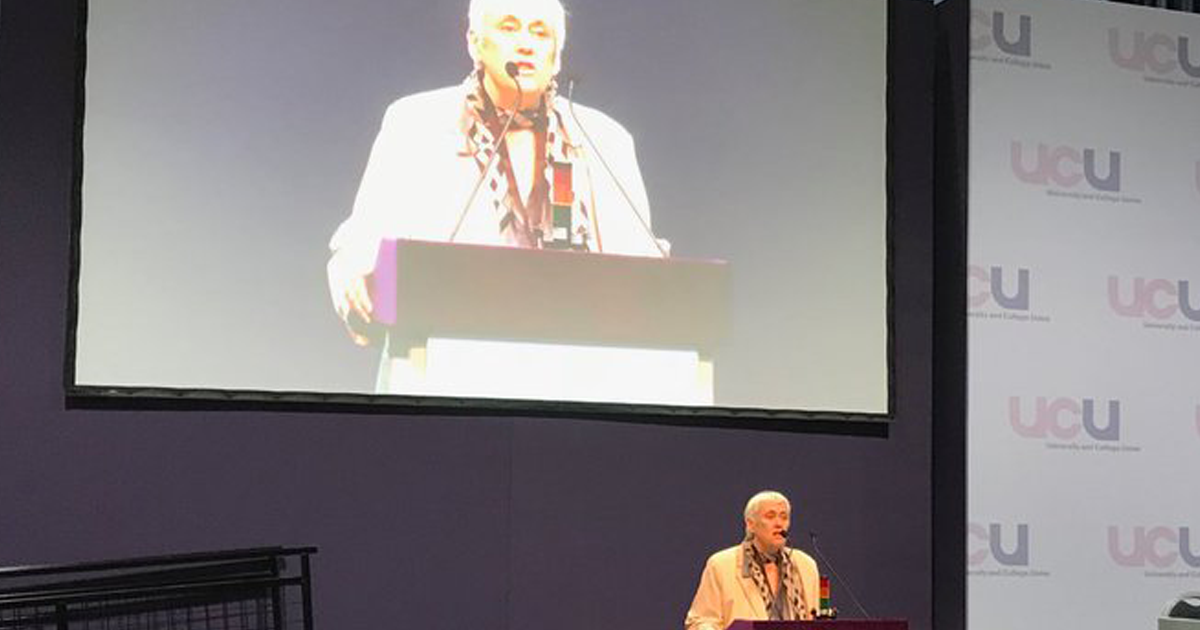 UCU president Congress 2018 speech
30 May 2018

Full text of UCU president Joanna de Groot's speech to Congress 2018

I am proud to be here today as a socialist, a feminist, an internationalist, and - of course - as a trade unionist.
I cut my teeth as a trades unionist over forty five years ago as an idealistic post-graduate.
I picketed with council rubbish collectors who wanted better pay;
I stood alongside women domestic workers denied union recognition;
I supported construction workers on building sites demanding a safe place to work.
At the start of what turned out to be a long journey to here, I learnt the lesson then that unity and solidarity are our best weapons.
I served the Association of University Teachers (AUT) at branch and UK level, and was proud when we merged to form UCU twelve years ago.
The promise that we would be more than the sum of our parts which underpinned that merger has been delivered in my view in everything we do.
As president I've got to see the work of branches up and down the UK close up; to see the tremendous staff we have going above and beyond to support and defend members. And also to see the work of our National Executive Committee members.
Serving the union is an enormous commitment for anyone who is elected, and I pay tribute to everyone who I have served with this and my previous years as UK officer.
We know how to fight smart as well fight strong in support of our members, our students and our sector.
In all my own work in UCU, I have always believed that our union is at its best when we put our members - in all their diversity - at the forefront of campaigns, negotiations and decisions.
It is this that makes UCU distinctive, and sometimes - dare I say it - challenging.
It is something that we see in the work of UCU members up and down the UK, whether defending jobs and fighting for decent pay and conditions in FE colleges, in the struggle over USS, in our campaigns for gender pay equality, and - unbelievably in this day and age - in the fight for union recognition in universities.
Alongside those big labour movement principles UCU members combine commitment to our union with commitment to our profession whether as IT and library specialists, as FE educators, as tutors in adult education, as university academics, prison educators, or other roles in post school education.
We work to get respect for ourselves as workers who deserve decent pay and conditions alongside respect for us as committed, skilled professionals.
That's why we care and campaign about governance, inclusion, about student needs, and about collegiality in universities and colleges as well as about the exploitation of casualised workers, pay suppression, and excessive workloads.
Congress, unity and solidarity matter as much today as they did when I started out as a trades unionist in the 1970s.
Our work and professionalism are under long term and serious threat in a world where marketization and commodification damage and discriminate against us as workers as they also damage our students and communities.
I am so proud that UCU members are standing up for post-compulsory education as a public good and as a public asset for which we want proper public finding, and to which we want full public access and inclusion.
Earlier this year staff and students resisting the university employers' attempt to wreck the USS pension scheme didn't just have powerful slogans about pension valuations and benefits - they had banners and chants and placards saying 'WE are the university', and 'Education for all'. Staff opposing redundancies at Hull College had locals and students on the picket lines talking about the college as their resource, transforming their lives.
No matter what the issue, I know first-hand that our picket lines are usually lively and affirmative places to be - places where staff come together to defend what is important to them.
Places where people who normally pass each other in the corridor on the way somewhere else get to talk to each other about the changes that we seek.
Why this year even a few Vice Chancellors have been persuaded to attend.
The 'we' of UCU is very diverse indeed, if we think about its equality strands, the devolved jurisdictions in Wales, Scotland and Northern Ireland, the range of our members' contractual and work situations, let alone our varied political views.
Our recent successes in recruiting and involving thousands of new members is transforming the union, creating a wider livelier spectrum of experience and fresh insight as well as energy.
All this challenges us to hear and respond to diverse needs, views and interests, and to listen and learn, whoever we are, but also to come together for the common good, finding shared approaches to make us stronger, rather than making diversity a source of division.
Speaking more personally I want to say that as president I've had some terrific opportunities. I've had the chance to engage with a huge range of members and staff and to play a role in UCU's activities up and down the UK.
I've learnt a lot about myself and about this union too during a year of great achievements and great challenges for UCU.
And while for UCU members and congress delegates Presidents come and go, for myself my four years as a UK officer of our union has been one of the most important, demanding and rewarding experiences of my life, and one which I'm taking into my future.
So I hope as I look at you all that I can see - especially our first time delegates - some future presidents, officers and NEC members.
The union needs your commitment.
It is your union and your future.
Now, I want to finish by thanking you in advance.
I see my role in chairing Congress as being to give as many different delegates as possible a chance to speak and to hear debate an all the motions which come here. Those who take the trouble to send motions to this Congress deserve nothing less.
In my keenness to do this, I will inevitably make the odd mistake and when I do please bear with me.
SO - forty seven years since my first ventures into trade unionism, I have learned quite a lot and changed quite a lot [not just the white hair]
BUT I still believe in unity and solidarity.
I'm still idealistic about the power that we all have to change things when we work together.
And I couldn't be prouder than to be president of this growing union which works and fights so impressively for its members.
I salute the work which all of you here do for the union.
Together let's make this Congress another stepping stone to the better world we all want.'
Last updated: 30 May 2018