•
•
•

UCU Congress 2018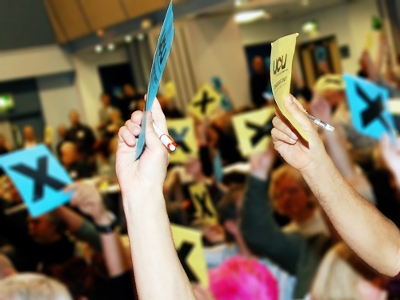 UCU Congress 2018
Wednesday 30 May - Friday 1 June 2018
UCU Congress 2018 will be held in Manchester at the Manchester Central.
---
Registration
Registration for Congress is now open!
Online registration is available and delegates are encouraged to use it where possible.
Delegates can register online here.
Note: a separate online registration form exists for members who are attending in a capacity other than that of a branch or regional committee delegate (such as NEC members, trustees, delegates or observers from regional committees). These members will be contacted directly with a different link by email. If you require further information please contact Sue Bajwa.
The deadline for registration is 5pm on Wednesday 25 April 2018.
Once registered delegates will receive an email confirmation to say their registration has been received.
Accommodation
All accommodation will be booked by UCU for delegates on a bed and bed breakfast basis. Delegates will be asked to indicate their requirements for accommodation when they register to attend Congress, and no further action is required from delegates or branches to book accommodation.
As in previous years, delegates from the same region will be put into the same hotel where possible. Delegates are urged to register as early as possible and no later than the 25 April deadline in order to assist us in organising the accommodation in this way.
Delegates' hotels will be confirmed by letter approximately three weeks ahead of Congress. However, an email to confirm accommodation requests will be sent out soon after registration. If you have not received confirmation a few weeks after your registration please contact Sue Bajwa.
If you make a cancellation three weeks or more before Congress, it is likely (but not certain) that we can make arrangements so as not to incur accommodation costs. Cancellations made less than three weeks before Congress will usually require the union to pay the full cost of accommodation.
Hotels will usually request credit card details on arrival. This is the usual practice of many hotels as you will be charged for any extra costs incurred during your stay (e.g. newspapers/phone calls etc). Any hotel extras should be settled by delegates prior to departure and if not, will be invoiced to delegates by the hotel. Please also see the expenses section below.
Expenses
Reasonable travel and subsistence expenses will be paid to cover costs necessarily incurred in attending Congress, including delegates' travel from work or home addresses within the UK, the Channel Islands and the Isle of Man. These expenses will be met centrally by UCU. Receipts must be submitted in respect of all expenses claimed, whether travel or subsistence. An expenses claim form specific to Congress will be made available to delegates.
Hotel accommodation for delegates will be paid for directly by UCU; other necessary subsistence costs (such as evening meals) will be reimbursed to delegates in accordance with the expense claim form.
Delegates are asked to minimise their expenses wherever possible, including booking advance travel tickets.
Childcare facilities
A crèche/kids' club will be provided during the hours of Congress business and official fringe meetings, and there will be no charge for this facility where alternative arrangements cannot be made. Please indicate on the registration form if you require this service, and the relevant forms will be sent out to you. Please make sure that we are notified of your requirements by the deadline of 25 April 2018.
Alternatively, members may claim a dependants' allowance to contribute to additional care expenses incurred directly in relation to attendance at Congress. Details of the scheme are available upon request from the Sue Bajwa.
Fringe & social events
There will be a welcome reception at the Manchester Central on Tuesday 29 May, and a delegate dinner for all members on Thursday 31 May 2018. Delegates must register if they are attending these.
Fringe meetings will take place on Wednesday & Thursday lunchtimes and possibly a couple on Tuesday 28 May before the Welcome Reception, A programme of official fringe meetings will be available nearer to the time
Congress papers
Congress papers - reducing printed paperwork
Recent Congress feedback has shown that some delegates would like to receive less paper before and at Congress. This year, all Congress papers will be available to download from a dedicated page on UCU's website. Papers will be uploaded as they become available. In addition, an email will be sent to all delegates on 17 May, when all advance papers are expected to have been uploaded, reminding them where the papers can be found.
Only delegates who indicate, in response to the relevant question on the online registration form, that they do want to receive a hard copy Congress mailing, will receive a mailing of all Congress papers, which will be posted on Friday 19 May.
All delegates will be sent a hard copy of their accommodation details approximately three weeks before Congress, along with a document that sets out practical information about Congress attendance.
The final bound agenda of motions and amendments will be available for all delegates to collect on arrival, as in previous years.
Motions and amendments
The deadline for submission of Congress and FE and HE sector motions was noon on Friday 16 March 2018. The Congress Business Committee's first report has now been issued containing motions submitted to Congress and the HE and FE sector conferences. This will form the agenda when UCU's Congress meets. A provisional timetable of Congress business is also included.
Amendments to motions must be submitted by 12 noon on Friday 4 May. Amendments can be submitted using an online form. Late motions can also be submitted using this form.

Alternatively, an amendment/late motion form can be downloaded here. [43kb]. In submitting a 'late' motion the submitting body must explain how the criteria are met.

Late motion criteria are available here. [35kb]
Any queries about the submission of motions and amendments, please contact: Kay Metcalfe
Delegate entitlements
Information about delegate entitlements for Congress and the sector conferences is available here.
Congress Business Committee
Nominations are sought for two higher education and two further education members of the Congress Business Committee. The term of office is from the close of Congress 2018, for a term of two years.

A nomination form is available here. [34kb]. Nominations will be re-opened at the Congress meeting only if insufficient nominations are received by the 23 May deadline.
Provisional timetable
Wednesday 30 May
Congress begins at 9:30.

Morning session: opening business, including address by Joanna de Groot, UCU president, followed by a session on the report of the Commission on effective industrial action (motion ROC1), business of the strategy and finance committee to be taken in private session (section 1 of this report), followed by rule changes to be taken in private session (section 2 of this report).

Lunch and fringe meetings 12:30-14:00

Afternoon session: Address by Sally Hunt, general secretary. Business of the equality committee (section 3 of this report), followed by the business of the strategy and finance committee to be taken in open session (section 4 of this report).
Thursday 31 May
FE and HE sector conferences, 09:00-18:00, with lunch and fringe meetings 12:30-14:00.
Friday 1 June
Congress business begins no earlier than 09:00.

Morning session: business of the education committee (section 5 of this report), followed by business of the recruitment, organising and campaigning committee (section 6 of this report).

Lunch break 12:00-13:00 (no fringe meetings)

Afternoon session: continuation of the business of the recruitment, organising and campaigning committee (section 6 of this report), and closing business.

Congress closes no later than 15:00.

The inclusion and timing of any external speakers remains subject to confirmation.
Related documents
Last updated: 24 April 2018