•
•
•
•

Strikes on at Lewisham Southwark College as last-minute talks fail to resolve pay dispute
Strikes on at Lewisham Southwark College as last-minute talks fail to resolve pay dispute
26 September 2018

UCU members at Lewisham Southwark College will take strike action on Thursday 27 and Friday 28 September in a row over pay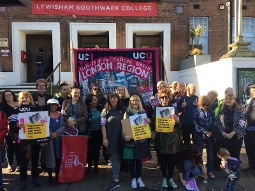 UCU members at Lewisham Southwark College walk out in pay row Last minute talks between the union and college failed to resolve the dispute and the strikes remain on with further disruption threatened.
Striking staff will be on picket lines from 8am on both days at the college's Lewisham and Southwark sites. The action follows walkouts in May and UCU has warned that further disruption is on the cards if the college refuses to sort out the pay issue.
The union said the college had to shoulder the blame for the disruption after years of real-terms pay cuts. Staff have been offered only one pay increase (of just 1%) in five years and, unlike other London colleges, they don't receive the London weighting allowance.
UCU head of further education Andrew Harden said: 'The college must shoulder the blame for the disruption this week. Strike action is always a last resort but, in the face of repeated real-terms pay cuts and the refusal to implement London weighting, staff feel they have been left with no option but to walk out.
'We remain available for talks and are keen to get this dispute resolved, but the college needs to come back to the table with a decent and fair offer.'
The action comes just days after the college announced that it will be splitting into two separate colleges, a move which the union says must be the catalyst for improvements for staff, students and the local community.
Last updated: 27 September 2018