•
•

FE fights back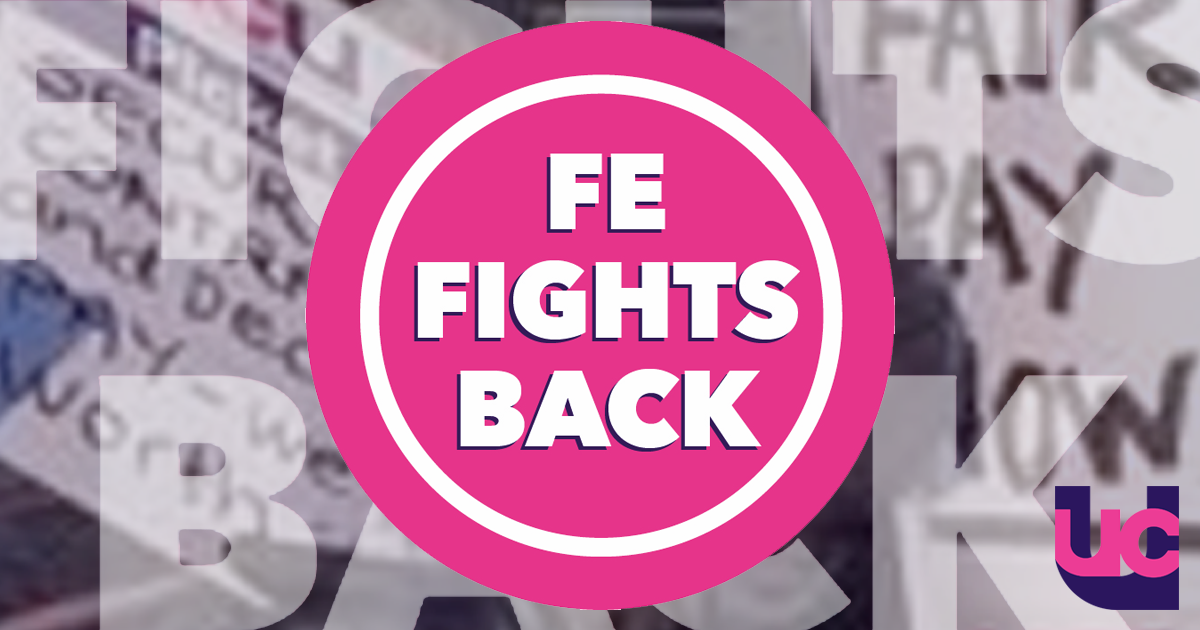 FE fights back
FE staff in England are getting a raw deal from their employers. Workloads have never been higher while average pay packets have shrunk and the latest kick in the teeth - this year's recommended 1% pay rise - has not even been implemented in over 40% of colleges. UCU's Sean Vernell has argued that national pay bargaining mechanisms are failing the sector.
Meanwhile the latest college accounts show 17 college principals earned over £200,000 in 2016/17 and over a third enjoyed a pay rise of 10% or more.
UCU is launching a 'second wave' of our campaign for better pay and better jobs in FE and many branches are now preparing to take up issues like pay, workload and job security directly with your college management.
The Association of Colleges (AoC) has confirmed that they are now refusing to negotiate with us on pay while local disputes, aimed at improving pay and conditions continue.

We'll now submit a claim for 5% or £1500 (whichever is greater) to every college not currently in dispute in England. Where there's no positive response we'll start balloting in June for strike action.

We'll only be able to take action if at least 50% of members vote so if you support our FE fights back campaign we'll need your help to spread the word when the ballot opens.
Taking action:
Latest headlines
Please get in touch with your local UCU branch if you would like to get involved in campaigning for a better deal for staff.

Please share our campaign video below, also available to share on Facebook:
We also have a selection of campaign posters for you to put up around your workplace.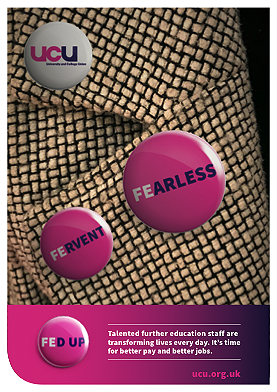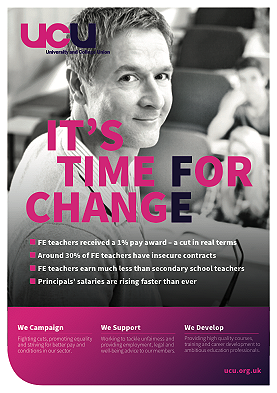 Fight back strike dates
Wednesday 9 May
Hull College Group
Friday 11 May
Tower Hamlets College
Hackney Community College
Monday 14 May
Tower Hamlets College
Hackney Community College
Tuesday 15 May
Tower Hamlets College
Hackney Community College
Sandwell College - agreement reached; called off
Wednesday 16 May
Sandwell College - agreement reached; called off
Thursday 17 May
Hull College Group
Epping Forest College
Sandwell College - agreement reached; called off
Friday 18 May
Hull College Group
Sandwell College - agreement reached; called off
Tuesday 22 May
Lambeth College
Lewisham Southwark College
Wednesday 23 May
Lambeth College
City and Islington College (CCG)
College of Haringey Enfield and North East London (CCG)
Westminster Kingsway College (CCG)
Lewisham Southwark College
Thursday 24 May
Lambeth College
City and Islington College (CCG)
College of Haringey Enfield and North East London (CCG)
Westminster Kingsway College (CCG)
Friday 25 May
City and Islington College (CCG)
College of Haringey Enfield and North East London (CCG)
Westminster Kingsway College (CCG)
Tuesday 5 June
City and Islington College (CCG)
College of Haringey Enfield and North East London (CCG)
Westminster Kingsway College (CCG)
Havering College
Wednesday 6 June
City and Islington College (CCG)
College of Haringey Enfield and North East London (CCG)
Westminster Kingsway College (CCG)
Thursday 7 June
City and Islington College (CCG)
College of Haringey Enfield and North East London (CCG)
Westminster Kingsway College (CCG)
Havering College
Friday 8 June
City and Islington College (CCG)
College of Haringey Enfield and North East London (CCG)
Westminster Kingsway College (CCG)
Havering College
Tuesday 12 June
Havering College
Last updated: 17 May 2018