•
•
•
•

Joint Unions in Prisons Alliance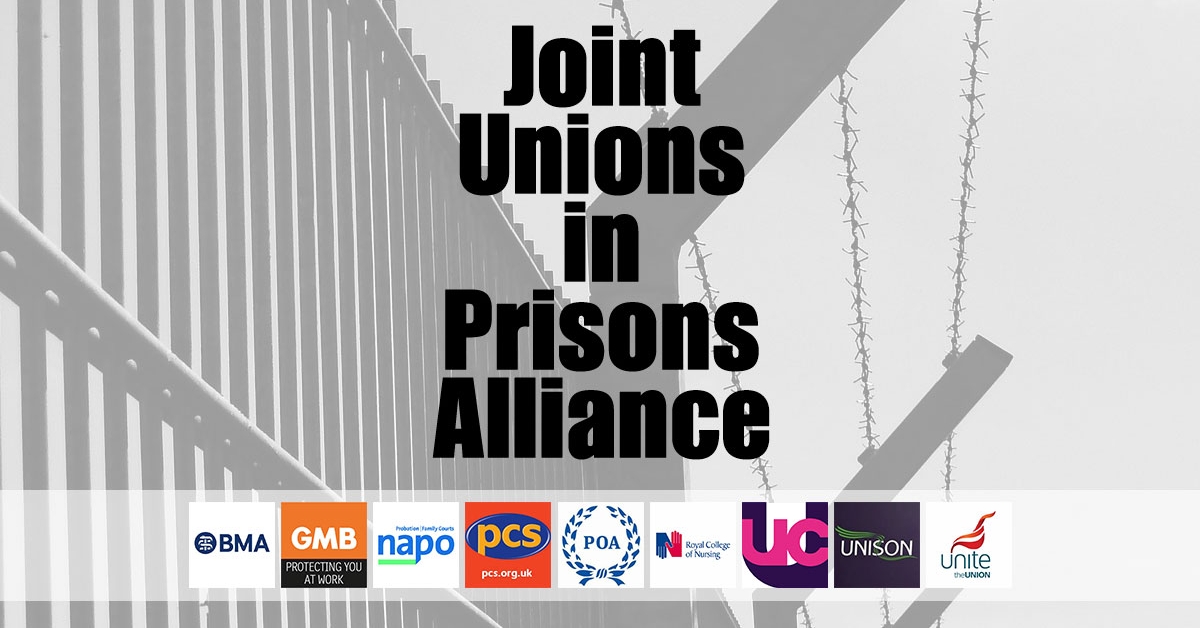 Joint Unions in Prisons Alliance
12 June 2019

The Joint Unions in Prisons Alliance (JUPA) was set up in response to ongoing concerns about the safety of staff working in prison environments to seek improvements to working conditions in prisons so that staff can feel 'Safe Inside'.
The alliance brings together the following trade unions and professional organisations, all of whom have members working to provide services in prisons:
We represent staff employed by HMPPS, private prison providers, and staff working for contractors providing cleaning, maintenance, healthcare and education services.
In addition to significant concerns about the safety of members, with an ageing prison population and cases of assaults and self-harm at continuing high levels, the Alliance are also concerned about the impact of current conditions on the welfare of prisoners.
You can read the

read the full position statement of the alliance here [532kb].
Safe Inside Prisons Charter
The charter, developed by the Joint Unions in Prisons Alliance (JUPA), aims to promote the development of positive safety cultures and safe working practices, which protect the long-term physical and mental well-being of all those working within our prisons, regardless of their employer:

Safe Inside Prisons Charter [129kb]
Safety survey
A survey of membership among prison workers in the JUPA organisations was undertaken in March and April 2019 to explore experiences of verbal and physical abuse, and exposure to 'spice' and other psychoactive substances. The aim of this research was to gain a better understanding of working conditions in prisons, to document the findings and call for the necessary improvements to enable prison to be an effective environment to support rehabilitation and well-being.
You can

read the survey report, 'Safe Inside', here [908kb].
You can

view the full data from the member survey here [291kb].
Prison educators are urged to write to their MPs about the campaign.

Here's a model letter you can use [24kb].
Last updated: 14 June 2022