•
•
•
•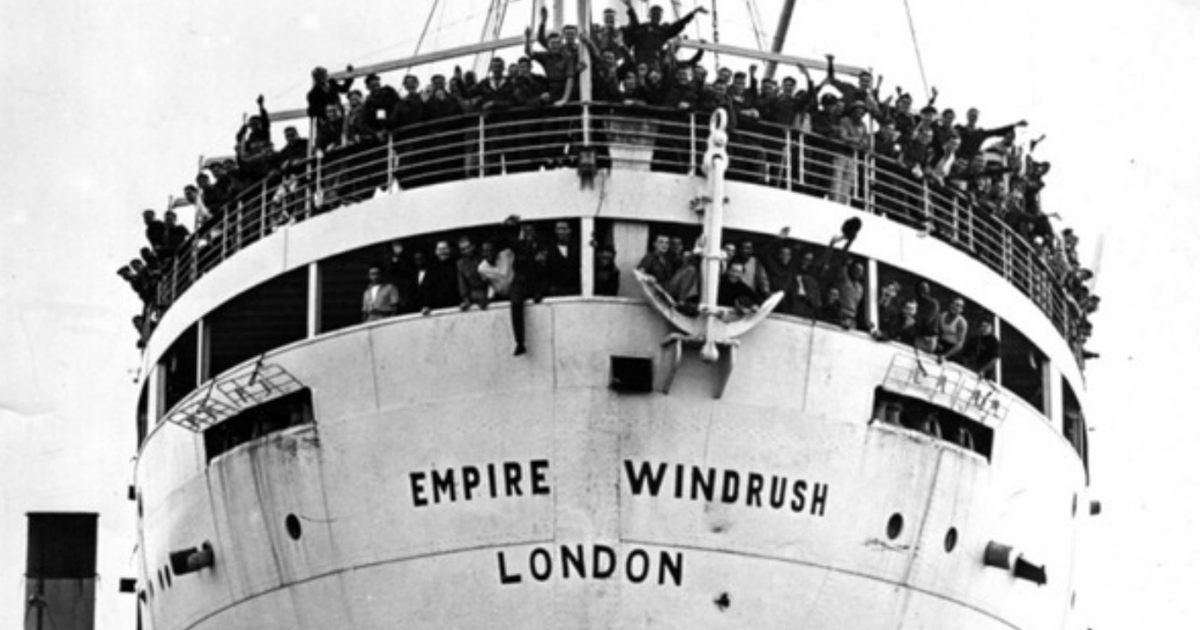 The Great Windrush Scandal
26 April 2018
As chair and vice chair of the Black Members' Standing Committee, we are disheartened at the treatment of the individuals and their families caught up in the ongoing Windrush scandal - a scandal created through a range of government measures that has led to a hostile environment in the UK. As a response to this, UCU's delegation to the TUC Black Workers' Conference, unanimously passed an emergency motion on this very issue.
The following post has been written with the support of the chair and vice chair of the Black Members' Standing Committee.'
David Muritu, Chair, Black Members' Standing Committee
Kirsten Forkert, Vice Chair, Black Members' Standing Committee
---
As the child of parents who accepted the invitation of the British government to come to England during the 1950s, to help rebuild the 'Motherland', I have heard of their stories of being discriminated against at work and in wider society and of their dogged determination to make a life for themselves and their children. But my family's experience is different to those caught up in the 'Great Windrush Scandal'.
These are all individuals who did nothing but accept an invitation to help rebuild England... who have all been stripped of their British Citizenship.When I hear the stories of Paulette Wilson, who has lived and worked in the UK for over 50 years, held in the notorious Yarls Wood detention centre, being ill-treated and threatened with deportation; of Albert Thompson, who was told that after living and working in the UK for 44 years, that he is 'illegal' and that he must pay £54,000 to receive vital prostate cancer treatment; of brothers Trevor and Desmond Johnson, who at the ages of 9 and 10 years, came to join their parents in 1971 denied access to a British passport, threatened with deportation and access to benefits; and of Joseph Bravo, who has lived and worked here for 54 years, denied a British passport to attend his daughter's wedding in Australia because he came to the UK as a child on his parent's British passport. These are all individuals who did nothing but accept an invitation to help rebuild England following WW2 or came along as part of a family unit, who have all been stripped of their British Citizenship.
For me, this goes deeper than Windrush. For me it shows that those who came from all corners of the Commonwealth to rebuild this country, having done 'their job', were now superfluous to the needs of the country. To see how the government has shown its 'gratitude' to its own citizens for years of service in this way sickens me to my core. However, part of me feels that I should not be surprised by all this, especially when I look back on history and see a country that fails to acknowledge its role in the act of slavery (apart from mentioning well known abolitionists such as William Wilberforce but spectacularly failing to mention yet alone acknowledge the early black pioneers of the abolition movement such as Olaudah Equiano, Mary Prince and Ottobah Cugoano), fails to acknowledge the contribution of black and Asian men and women to the war efforts, to an education system that fails to teach black history. This tells and shows me the importance and lack of value that this country has for those who came from the British Commonwealth and who have contributed to make Britain great.
Hearing now that the government was unaware of this scandal and the impact it has had on its own citizens and that it is planning to compensate those affected, raises more questions than answers and leads me to ask, how are they to do this? How are they to compensate for Paulette Wilson's dignity, Albert Thompson being labelled as trying to cheat the NHS that he contributed to, Trevor and Desmond Johnson labelled as benefit scroungers and Joseph Bravo as an illegal immigrant? How?
These individuals, and many others arrived to the UK on a black British passport emblazoned in gold lettering with the words 'British Passport - United Kingdom of Great Britain and Northern Ireland', a document that could only be issued to British citizens, like my parents, are now being called immigrants, illegal, undocumented, and benefit scroungers. Changes to immigration in the UK over the years have seen unqualified individuals such as employers, lecturers and landlords having to act as borders guards, checking the immigration status of students, potential employees and tenants. This, along with the infamous 'Go Home Vans' and toxic debate around the EU referendum, has all but contributed toward this hostile environment currently being faced by those that look or speak 'foreign'.
What is needed is not a knee jerk reaction but a full reinstatement of their status as British citizens along with all the benefits afforded to that statusThe ignorance and complete lack of awareness being shown by Theresa May as architect and Amber Rudd as executioner is palpable. What is needed is not a knee jerk reaction but a full reinstatement of their status as British citizens along with all the benefits afforded to that status.
Next, there needs to be a fair immigration system that does not discriminate between people of different races nor scapegoat individuals or groups. Windrush is, in my opinion, only the tip of the iceberg. How many other individuals from non-Caribbean islands have or are being subjected to the same?
I believe that it is vitally important that we act and speak out collectively against this injustice and the ineptitude of the government to address and deal with the situation in a sensitive and clearly thought out way - whether it is to add your name to a petition or take part in a rally or to show your support to those affected in some other way. The distress that these individuals (and their families) have and are enduring should affect us all especially as many of those affected are our colleagues, neighbours, family members and acquaintances etc. UCU actively speaks out against all discrimination regardless of which protected characteristic a person falls under (age, disability, gender reassignment, race, religion or belief, sex, sexual orientation, marriage and civil partnership and pregnancy and maternity) and the union's recent delegation to the 2018 TUC Black Workers' Conference, passed a motion supporting those affected and calling for discriminatory practices incorporated in legislation to be removed.
On Monday 30 April, Parliament will be debating a call for an amnesty for the Windrush Generation invited to the UK as British citizens. Stand up to Racism (to which UCU is affiliated) has organised a demonstration from 4-7pm in Parliament Square to support the petition that has triggered this debate. For further information, please visit their website
For the avoidance of doubt, the 'Great Windrush Scandal' has shown that the government has been complicit in operating a system of institutional racism:
'The collective failure of an organisation to provide an appropriate and professional service to people because of their colour, culture or ethnic origin. It can be seen or detected in processes, attitudes and behaviours which amount to discrimination through unwitting prejudice, ignorance, thoughtlessness and racist stereotyping which disadvantage minority ethnic people.' The Macpherson Report.
An irony especially as on 22 April 2018, we marked the 25th year of the racist murder of Stephen Lawrence.
22 June 2018 marks the 70th anniversary of the arrival of the SS Empire Windrush at Tilbury Docks in 1948. It brought 492 West Indians, invited by their 'Motherland' to live and work in Britain in trades such as electricians, plumbers, labourers, to work in the transport system as drivers and conductors and in our beloved NHS as nurses and doctors. Fighting for equality amid the backdrop of vile discrimination makes me even more curious to see how Britain will show its appreciation to those who sacrificed so much and gained so little.
Sharon Russell
UCU Equality Officer