•
•
•
•
•
•

'A Future that Works' Manchester rally; also London march - Saturday 29 January
'A Future that Works' Manchester rally; also London march - Saturday 29 January
On Saturday 29 January UCU is joining with the TUC and the National Union of Students to host a march and rally in Manchester for 'A Future that Works'.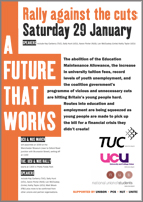 Manchester rally
The rally's themes are the cuts in access to education and its impact on young people. The abolition of the Education Maintenance Allowance, the increase in university tuition fees, record levels of youth unemployment, and the coalition government's programme of vicious and unnecessary cuts are hitting Britain's young people hard. Routes into education and employment are being squeezed as young people are made to pick up the bill for a financial crisis they didn't create!
Manchester has been chosen because the North West has the highest rate of youth unemployment in the UK and because the city has both the largest university and college in the country.
'A Future that Works' will highlight the impact of the recession and the coalition government's cuts programme on young workers and young people in general - and promote the trade union, student movement and partner organisation campaign against the cuts and for the alternatives. 'A Future that Works' is being hosted by the TUC in partnership with the National Union of Students and the UCU. We are also working closely with colleagues from PCS and as can be seen below Unison and others.
Manchester march and rally details
The march will be assembling from 10:30am at the Manchester Museum, setting off at 11:00 with the rally itself starting at 13:00 in Platt Fields Park.
Speakers are currently being confirmed and will include local, regional and national representatives from UCU and other unions, the TUC, NUS and other partner organisations.
London demonstration
UCU is supporting the 'Unite for Education, Fight every Cut' march which has been organised by the Education Activist Network (EAN) and the National Campaign Against Fees and Cuts (NCAFC).
Participants will assemble at 12noon at ULU, Malet Street, London, WC1E.
The march, which will include a rally, is also supported by PCS, UNISON's higher education committee and the London Student Assembly.
Further details of the assembly point and the route as well as a flyer to download are available from the organisers here (.pdf)

Last updated: 29 January 2020