•
•
•

The Friday email: 17 May 2019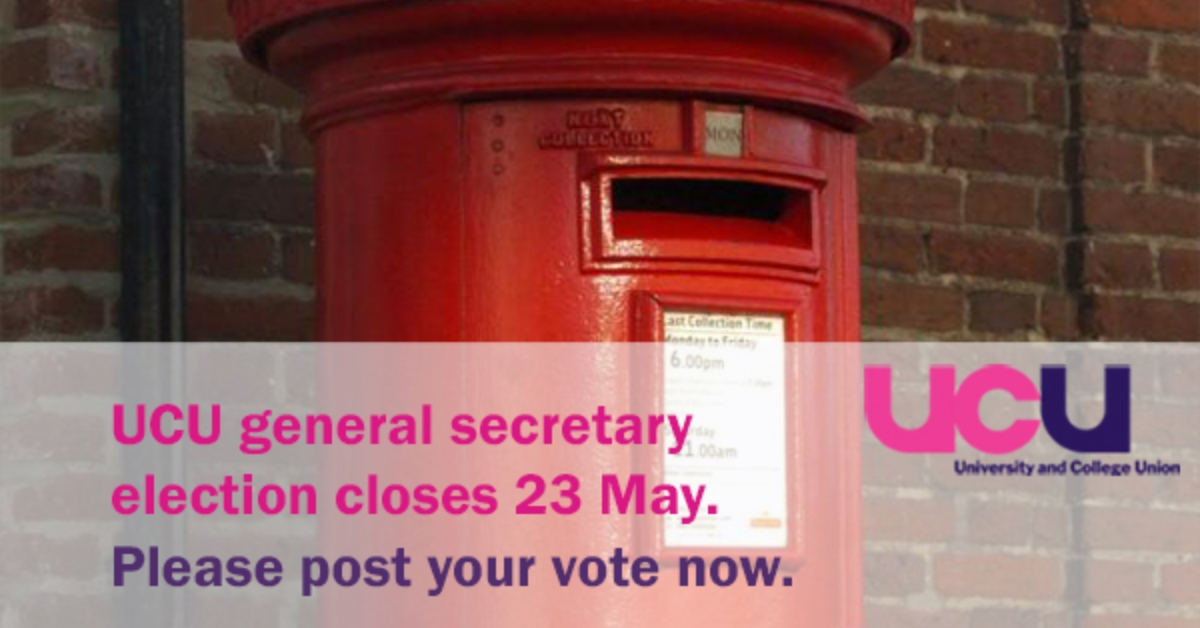 The Friday email: 17 May 2019
Your vote, your voice, your union
If you have not yet voted in the current UCU general secretary election, please make sure that you do not miss your opportunity to participate in this important democratic process. Details of the election, including the candidates' election addresses can be found here. If you need to apply for a duplicate ballot form, please do so as soon as possible, using this link which will close at 12 midnight on Sunday 19 May.

All votes must reach the scrutineer by noon on Thursday 23 May.
FE fights back: walk out at West Thames College
Staff at West Thames College took another two days strike action this week after management failed to make an improved pay offer to staff who have seen the value of their pay decline by 25% in the past decade. The action was part of our FE fights back campaign to win better pay and conditions for our members in colleges.
In the news
This week: Winchester staff to strike for 5 days; SOAS protests against far-right AfD; more strikes at West Thames College; Fight to #SaveStourbridgeCollege continues; Dundee principal relocation payout criticised.
Read all about it here.
Save Stourbridge College
UCU, other staff unions and supporters at Stourbridge College are calling on the community to come together and join the campaign to save the college. Birmingham Metropolitan College plan to close the college by 1 August 2019 which would be devastating for students, staff and for learning opportunities in the town. A public meeting is taking place at Stourbridge Town Hall at 7pm on Wednesday 22 May. Please let us know you're coming here and download and share this leaflet.
Protest at SOAS over far-right lecturer
Staff and students at SOAS are protesting today from 2pm against the extreme right wing Alternate für Deutschland (AfD) and SOAS law lecturer, Gunnar Beck, who is standing for the party in the forthcoming European elections. UCU has argued that the racist views of AfD have now place on UK campuses and their policies are incompatible with SOAS's values of diversity and internationalism.
Ruskin College: reinstate Lee Humber
Please join the rally in support of our victimised member, Lee Humber, in Oxford tomorrow Saturday 18 May. Assemble at 11.00am at Cowley Place, The Plain, Oxford, OX4 1DX.
Five day strike at University of Winchester over job cuts
Staff at University of Winchester will strike for five days at the end of the month if the dispute over job losses cannot be resolved. UCU members have announced they will be on strike on Tuesday 28 May, Wednesday 29 May, Monday 3 June, Tuesday 4 June and Wednesday 5 June. The university has said it wants to get rid of 55 posts - around 10% of the workforce. It has cited increased costs in pensions as a reason for the drastic move.
UCU Salford: showing of Ken Loach's The Navigators
The University of Salford branch have organised a special showing of a film which highlights what happens when an organisation allows cost-cutting to push out any concerns over health and safety.
The film is Ken Loach's classic The Navigators. It will be shown at the MediaCityUK campus on 22 May at 6pm. This event is free and open to all UCU members and their guests. Tickets are now available through Eventbrite. Places are limited so please register for this event soon.
Last updated: 17 May 2019