•
•
•

FE national bargaining in Wales
The history of national bargaining in Wales
6 August 2019

In 2002 each college had its own terms and conditions, that was the starting point when we got the chance to set up the negotiating body with the employers, supported by the then Education Minister, Jane Davidson.
It is important to the future of both the national pay scales and the national contract that members understand what their colleagues had to do in order to be successful. This is the story of the fight to achieve the current terms and conditions. Some will be wondering why we are telling this story: it is because our younger colleagues and non-members may not realise what it takes to achieve decent terms and conditions of work. We are not there yet, we still have to address the issue of workload nationally to ensure the health and well-being of our membership.
In the summer of 2002, every NATFHE (one of UCU's two predecessor unions) member in Wales was balloted and they voted to take strike action to get a reasonable pay offer from the employers. This was a regular annual occurrence, some colleges were willing to pay more than others and the battle happened most years. The official for NATFHE approached a senior civil servant to see if they would support a call for national bargaining in Wales. After much discussion and political lobbying the minister let it be known that they would provide financial support to put national pay scales for lecturers in place which reflected those of the school teachers. We had finally won the argument about parity of esteem between lecturers and schoolteachers.
It took 4 years of negotiation and an extra £40m+ to achieve a set of pay scales for unqualified, qualified and management spine staff in FE. All academic staff, including part time staff were now be paid the same set of pay scales, rather than the 29 pay scales which were in existence in April 2003. The final agreement, which included agreement on the upper pay spine, was concluded in January 2006.
The ink was hardly dry on the agreement and colleges started to challenge the agreement for threshold (access to the upper pay spine). We challenged their interpretation and they conceded. Fforwm, the employer's body, challenged the agreement over the date that a certain event would apply, again we had to challenge them back. It meant that members would lose an increase in their pay for a six month period. This time we needed to use the offices of ACAS; we won the decision and ACAS agreed that our interpretation of the agreement was the accurate one.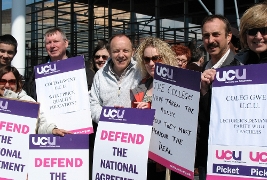 Members in Wales fought hard to defend the national agreement In 2007 we started work on the national contract. We lobbied assembly members over the issue trying to persuade them that given we had national pay scales it made sense for there to be a national contract, again arguing parity with school teachers. We worked politically, to get Carwyn Jones to put the national contract in his manifesto for leadership election for the first minister in December 2009. He won and so did we; we now had the impetus to get ColegauCymru round the table to discuss the terms of the national contract and the national workload agreement for lecturers.
We started the discussions by updating the

national recognition agreement [141kb] to ensure that we had the structures in place to allow us to do the detailed work on the contract early in 2010. It took 3 years of significant work by your national negotiators and the Wales official, as secretary to the joint trade union side, to reach an agreement on the national contract,

national workload agreement [377kb] for lecturers and a

national implementation agreement [86kb] to ensure that all colleges applied the provisions of the agreement fairly and consistently across Wales.
How is national bargaining currently working - the structures?
We have been operating the current negotiating structure in Wales since 2002 and it is covered by a national recognition and procedure agreement, which recognises its' purpose is to 'establish a Wales wide forum to negotiate on or consult on pay and contracts of employment and with other employment matters as appropriate'.
ColegauCymru has indicated recently that they wish to revisit this agreement and make changes to clauses in section seven, which establishes a drafting group to 'help produce documents for consideration by the full body, to help draft amendments to give effect to the decisions made by the full body and to act as editors to ensure consistency across the national agreement in Wales'.
In section 8.1 it covers the criteria to be considered by Wales Negotiations Committee (FE) in deciding whether a discussion about a topic is within the remit of the body. There are three criteria; statutory requirement for policies, where employer has a right to be accompanied and where both sides agree to have a national agreement in place.
What have we achieved through national bargaining?
Thus far we have a national contract for all staff, a national workload agreement, national guidance on workload, and agreements on dealing with domestic abuse, fixed-term contracts, part time lecturer pay arrangements, use of instructor demonstrator contracts, managing change, starting salary and TOIL for managers.
Last updated: 6 August 2019