•
•
•
•
•

Cradle to Grave 2021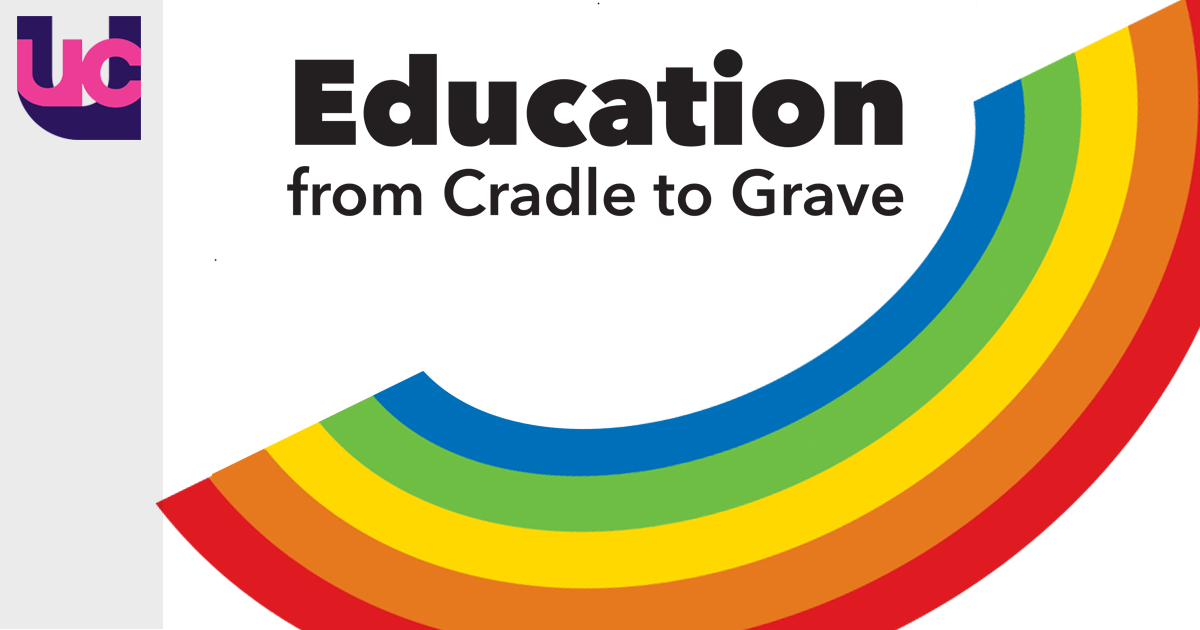 Cradle to Grave 2021
14 April 2021

2021 Cradle to Grave programme of policy webinars for members under the theme of 'Education and Liberation'.
Education from Cradle to Grave
UCU's annual policy conference, 'Education from Cradle to Grave', is a highlight of the union's calendar, but was unable to take place as normal in February this year due to the pandemic.
Instead, UCU is organising a programme of policy webinars for members under the theme of 'Education and Liberation'. These sessions will be a chance to hear from a range of excellent speakers and discuss some of the pressing issues facing post-16 educators today:
If you have any questions, please contact Quinn Roache.
Catch up
The future of digital teaching and learning
Tuesday 20 April, 1pm-2pm

Speakers include Ben Williamson of the University of Edinburgh and author of 'The Automatic University', Helen Kelsall from Trafford College Group UCU and Chris Williams from the Open University UCU.
The pandemic has forced a major shift towards digital teaching and learning, which has had significant implications for educators across post-16 education. This session considered the challenges and opportunities presented by the increasing use of online provision in further and higher education.
Rebuilding further education and lifelong learning
Tuesday 20 April, 4pm-5pm
Speakers include Shadow Minister for Further Education Toby Perkins MP, Dr Sharon Clancy of the Centenary Commission on Lifelong Learning, and Gavin Moodie, University of Toronto.
Further education plays a crucial role in our education system, but years of marketisation and underfunding have seen sharp drops to learner numbers, increasing restrictions on what can be delivered and worsening terms and conditions for FE staff. This session considered how we can rebuild FE and lifelong learning to ensure a system that works well for all students and staff and allows the sector to fulfil its transformative potential.
Post-qualification admissions: increasing fairness in higher education admissions
Thursday 22 April, 4pm - 5pm
Speakers include Dr Graeme Atherton of the National Educational Opportunities Network and Lee Elliott Major of the University of Exeter.
In recent years there has been growing support across the education system for a shift to post-qualification admissions (PQA), avoiding the current reliance on inaccurate predicted grades and bring the UK into line with the rest of the world. As the government consults on potential reforms, this session will consider some of the benefits of system change as well as exploring some of the practical considerations facing the post-16 education system as PQA is introduced.
Academic freedom: addressing the real threats
Friday 23 April, 1-2pm

Speakers include Dr Liz Morrish and Prof Terence Karran of the University of Lincoln.
Concern about threats to academic freedom and freedom of speech in the UK has been a consistent theme from the government in recent years - culminating in new proposals to strengthen regulatory requirements on providers. This session will examine the threats which marketisation, managerialism and unscrupulous employment practices - as well as the government's own policies - pose to academic freedom in the UK, and what can be done to bolster protections for staff in post-16 education.
Last updated: 8 June 2022