•
•
•

Love our ARPS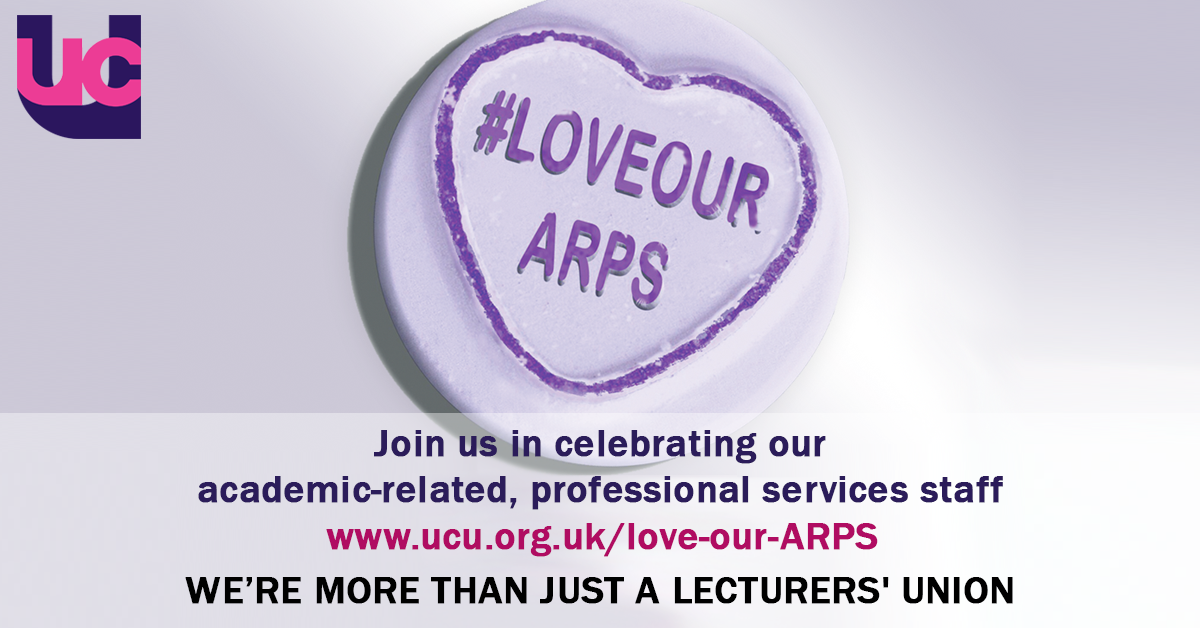 Love our academic-related, professional services staff - more than just a lecturers' union
The academic-related, professional services (ARPS) staff committee is organising a month of activities hoping to boost ARPS membership and ARPS-focused activities in branches.
Branches are encouraged to elect an ARPS rep onto the branch committee, and hold meetings of ARPS members to discuss their concerns, and consider actions that would address them.
Recruitment materials; the

ARPS manifesto [302kb]; the model branch survey (contact Jenny Lennox) and the

model branch claim [311kb] have all been developed to help with this work.
The committee are also organising the following events:
Launch event on Tuesday 15 June at 1pm: join UCU president, Vicky Blake, to hear about what the union is doing to support ARPS members.
Watch the new ARPS recruitment and organising video:
Health and safety briefing - 'preparing for a mass return to campus' on Tuesday 22 June, 1-2pm: is open to all ARPS members, and you can register to join the briefing here.
The committee is organising three focus groups to look at specific issues for IT, library and student support and counselling members. We urge members in these areas to sign up for these groups, and let us know what work you would like to see UCU do in these areas:
Friday 18 June, 1-2pm: IT members only
Thursday 24 June, 1-2pm: library members only
Monday 28 June, 1-2pm: student support and counselling members only
You can indicate which focus group you would be interested in participating here.
Finally we are also hosting a webinar looking at the outcomes of research conducted into 'professional services staff during the Covid-19 pandemic', Monday 12 July, 1-2pm: we will be joined by Professors Richard Watermeyer and Tom Crick who have conducted the research and will talk us through the outcomes as well as participating in a discussion. This webinar is open to all ARPS members and you can register here.
Last updated: 15 June 2021