•
•
•

The Friday email: 04 March 2022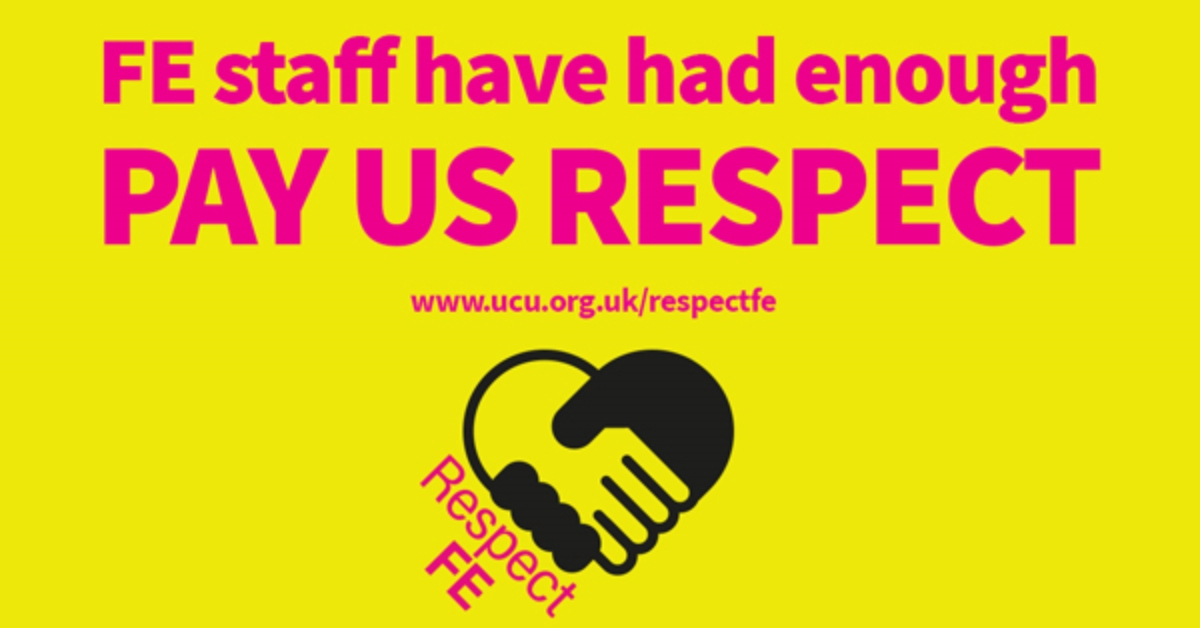 The Friday email: 04 March 2022
4 March 2022

Further education: pay us respect!
For more than a decade college staff have suffered below inflation pay rises and with the cost of living crisis now hitting hard, it's time for an increase in FE pay that keeps up with inflation and addresses the 35% real terms pay cut and the huge disparity with school teacher salaries.
Our new FE campaign calls for action to address pay erosion and spiralling workloads as well as a demand for professional respect.This Monday 7 March members at some FE England institutions will be invited to vote in a consultative ballot on action to support our 2022/23 claim.
Please show your support and vote YES. The consultation will close on Friday 25 March 2022.
Higher education strikes: keep up the pressure
The current wave of strike action in higher education ended this week with angry and vibrant picket lines at the 63 universities involved in the Four Fights dispute. There were rallies at Manchester, Edinburgh, Leeds, Glasgow, Sheffield, Bristol, London and many more. On Wednesday we joined forces with the National Union of Students (NUS) and UCU members joined the march to UUK headquarters as part of the NUS Student Strike for Education. Meanwhile members at Queen Mary, University of London are being balloted for further action in response to management's disgraceful decision to withhold 100% of pay for staff refusing to reschedule classes lost to strike action. The union's higher education committee (HEC) met last Friday and made decisions regarding the next steps in the dispute and we will be announcing plans imminently.
Keep up the pressure by:
Statement on Ukraine
UCU sends solidarity to all those affected by the devastating events in Ukraine and unequivocally condemns the Russian invasion of the country. Our union has made a donation to UNICEF's emergency appeal and is demanding governments ensure all people are able to reach a place of safety. Click here to read UCU's statement and here to read Trades Union Congress's (TUC) statement. Russia's bombardment of Kharkiv has killed 21 people and injured 112, Ukrainian authorities reported, and V.N. Karazin Kharkiv National University was badly damaged. We stand with staff and students at Ukrainian universities, and Ukrainian staff and students at UK universities.
Britain needs a pay rise: TUC march and rally in Blackpool, Saturday 19 March
UCU is supporting the TUC rally in Blackpool on Saturday 19 March 2022 and our general secretary Jo Grady will be one of the speakers. As workers and families are hit by the cost of living crisis, join the protest at the Conservative Party spring conference and sign up here to let us know you're coming. Assemble 10.00am, Comedy Carpet on the seafront, FY1 1AP, march departs 11.00am, rally at 12 noon.
Equality research conference: call for papers
UCU equality research conference will be held online over 3 days, Tuesday 17 to Thursday 19 May 2022. The call for papers is open. For further information and to submit a proposal please use this link.
Staffordshire University: no to a two-tier workforce
Please sign the petition in support of Staffordshire University UCU's campaign to stop plans to bring in a two-tier workforce by employing new academic staff through a wholly-owned subsidiary. New staff will be on different terms and conditions - including not having access to TPS - which will fragment the workforce and increase pressure on the university to harmonise downwards. Other employers will be watching - it needs to be stopped now.
Rule 13 decision on the conduct of members
A decision is available to UCU members here.
Last updated: 4 March 2022