•
•
•
•

UK universities to face new ballots for further industrial action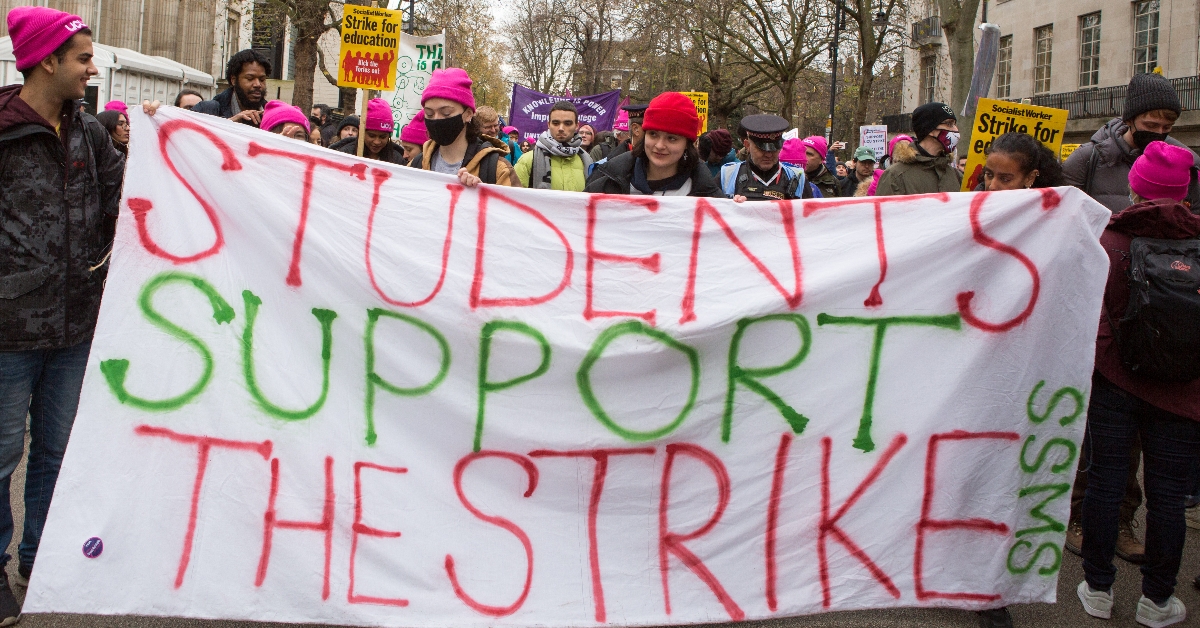 UK universities to face new ballots for further industrial action
8 March 2022

UCU has announced today that it will open new industrial action ballots over cuts to pensions and deteriorating pay and conditions, paving the way for action to continue throughout the remainder of 2022.
The new ballots will open at 149 universities on Wednesday 16 March and will run until Friday 8 April.
The new ballots, which will be for strike action and action short of strike (ASOS), are being run in both of the union's two ongoing disputes: pensions, and pay and working conditions. UCU originally balloted universities in October 2021, and the mandates to take industrial action will end on Tuesday 3 May at many universities. Successful reballots will allow staff to continue taking action through this calendar year.
Over 50k university staff at 68 universities are set to begin five more days of strike action this month, after recently taking up to 10 days of strike action over three weeks, from Monday 14 February to Wednesday 2 March.
In total 149 universities will face new ballots. Staff at 65 universities in the Universities Superannuation Scheme (USS) will be balloted over pension cuts, and staff at 143 universities will be balloted over pay and working conditions. Some universities will face ballots in both disputes, others just one.
Successful ballots could see action short of strike such as a marking and assessment boycott beginning next term. This could stop hundreds of thousands of students from graduating.
Employer representative, the Universities and Colleges Employers Association, said university bosses are "compelled" to dock 100% of the pay of staff taking part in ASOS. So far only Queen Mary, University of London, has attempted to do so. UCU launched a local strike ballot in response and said that if any other university tries to emulate Queen Mary, they too will face further disruption.
Last month university employers forced through USS pension cuts which will see 35% slashed from a typical member's guaranteed retirement income. In the pension dispute, UCU is demanding that employers revoke their cuts and re-enter negotiations.
New retail price index inflation figures of 7.8% mean UCU estimates staff pay is now down by 25.5% in real terms since 2009. Over 70k academics are employed on insecure contracts. The gender pay gap in UK universities sits at 16%, whilst the disability pay gap is 9% and the race pay gap is up to 17%.
In the pay and working conditions dispute the union is demanding an end to race, gender and disability pay injustice; a framework to eliminate zero-hours and other insecure contracts; and meaningful action to tackle unmanageable workloads; as well as a £2.5k pay rise for all university employees.
The union said universities can more than afford to meet the demands of staff. University finance figures show total income across the sector is around £41.9bn with reserves of £46.8bn. On average, vice-chancellors enjoy full pay packages of £269k per year. Students have been supporting the strikes and the National Union of Students joined the previous round of strike action with a student strike on Wednesday 2 March.
UCU general secretary Jo Grady said: 'Vice-chancellors are refusing to withdraw devastating cuts to pensions and continue to ignore reasonable staff demands for better pay and working conditions. This intransigence has left those who work in our universities with no choice but to re-open ballots across the UK.
'Many campuses have already seen up to 13 days of strike action so far this academic year, and they face another five day long walkout in the coming weeks. Successful reballots could see this action extended throughout the rest of the calendar year and include a marking and assessment boycott, which could prevent universities being able to award degrees - bringing the sector to a standstill.
'Students and staff alike know universities can well afford to meet the modest demands of staff, but vice chancellors continue to plead poverty whilst taking home eye watering salaries and hoarding tens of billions of pounds in reserves. The ball remains in the court of employers to resolve these disputes.'
Last updated: 29 November 2022