•
•
•
•

College strike ballot opens as staff say low pay is impacting their mental health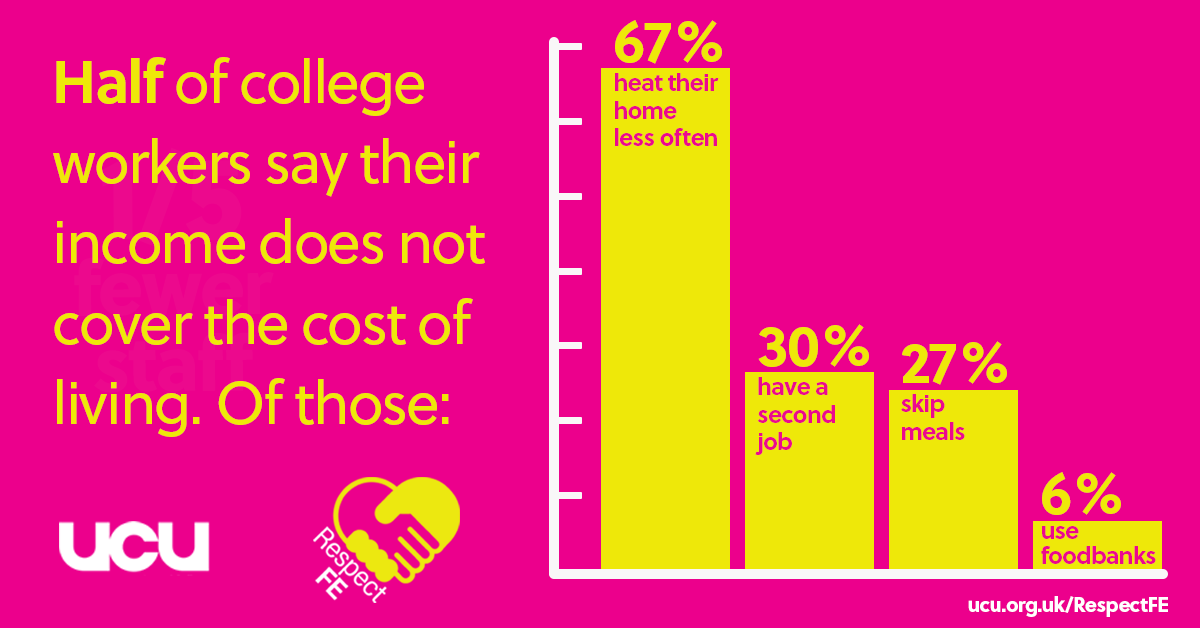 College strike ballot opens as staff say low pay is impacting their mental health
5 September 2023

Strike ballots open at 89 college employers today as a UCU survey of further education employees shows a workforce in crisis.
The survey of over 2,000 (2,003) workers from colleges across England shows almost all are struggling financially (96%) because of low wages with four in five survey respondents saying their financial situation is impacting their mental health (79%).
Around half (46%) of survey respondents said their income does not cover the cost of living. Of these, almost two-thirds are heating their home less frequently (67%), a quarter are skipping meals (27%) and one in 20 (6%) are using foodbanks.
Employer body, the Association of Colleges (AoC), has so far refused to make any pay recommendation for 2023/24 even though colleges will receive at least £700m more funding over the coming year (23/24) than three years ago.
The survey's main findings include:
over two-thirds of respondents (69%) said they could leave the sector if pay does not improve
over 19 in 20 (96%) respondents said their income either does not cover their costs of living or only just about covers their cost of living
almost four in five respondents (79%) said their financial situation is having an impact on their mental health
of the 48% of respondents who said their income does not cover the cost of living, about two-thirds (67%) said they heat their home less frequently, 62% said they are using savings, half said they are using credit cards, over a third (39%) said they restrict hot water, 31% said they are borrowing from friends and family, over a quarter (30%) said have a second job, and a quarter (27%) said they skip meals, and one in 20 (6%) said they use foodbanks.
Comments from respondents:
"I have 2 part-time jobs other than being a [full time] lecturer just to keep my family going. Bills
[and] mortgage take up most of my salary."
"There is no hope, it's a difficult job and even small treats like a meal with a friend are out of my reach. My debt keeps mounting and the only paths out of it seem to be further debt or starvation."

"I am paid minimum wage for a job that requires at least a level 2 [qualification] in my trade. I've got three credit cards, two loans and I'm in my overdraft by way too much. I also have a second job. I shouldn't have to work myself to the bone and put myself in debt for a job I once loved."
UCU general secretary Jo Grady said: 'This survey lays bare why our members will be voting in huge numbers to take strike action. College staff are the beating heart of our communities and transform the life chances of hundreds of thousands of students every year. But they are struggling to survive and pay is so low it is harming their mental health.
'Pay and conditions are so bad, many staff are considering leaving further education. Staff, students and local communities deserve better.
'The money has now arrived to pay our members fairly. Those who lead our colleges need to start respecting staff properly and give them the decent salaries and manageable workloads they deserve.'
Last updated: 19 September 2023