•
•
•
•

Pay of college bosses jumped by quadruple the recommended rate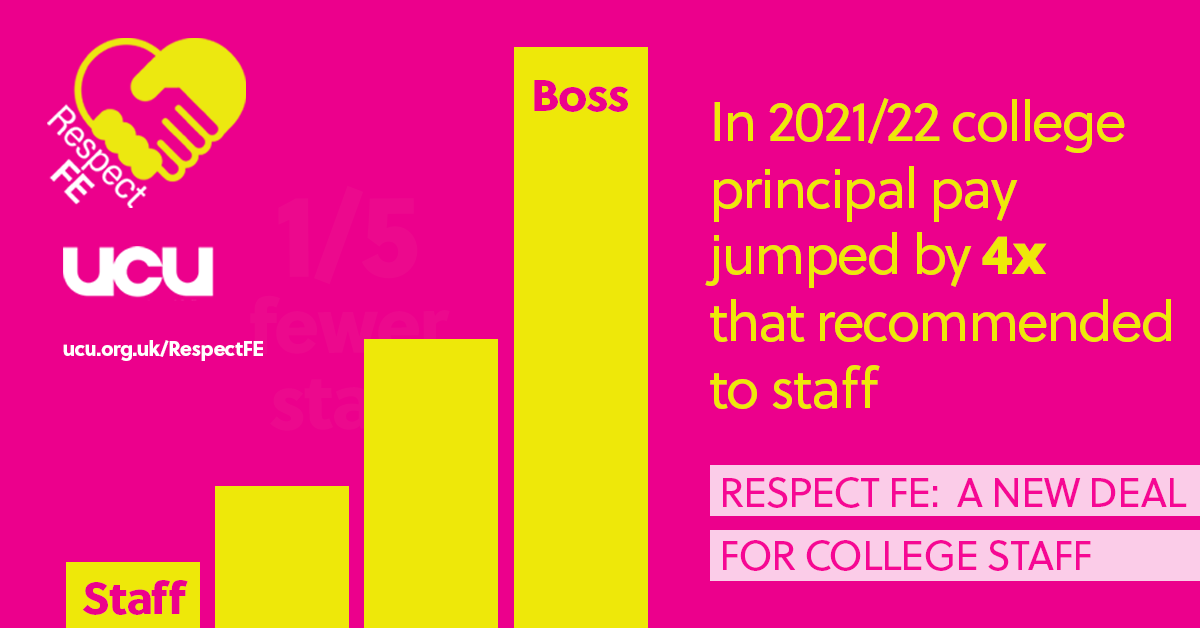 Pay of college bosses jumped by quadruple the recommended rate
31 August 2023

New financial analysis by UCU shows that 26 principals received pay rises of over 10% in 2021/22 and one principal's total package rose to over £360k. The average increase was 4%, four times higher than the 1% employer body the Association of Colleges (AoC) recommended for staff in that year.
The AoC sets salaries so low that qualified lecturers are paid as little as £26k. It has so far failed to make any recommendation on pay whatsoever this year (2023/24), despite the government providing additional funding to colleges on an 'equivalent' basis to the school funding which resulted in teachers getting a 6.5% increase.
The analysis comes with strike ballots set to open at 89 colleges across England next week in a fight over low pay and poor working conditions. It shows:
government increases to English college funding mean the sector will get at least £700m more in 2023/24 than it did three years ago (2019/20), when funding for students aged 16-19yrs began to rise
by 2025 colleges will also get at least £1.8bn more from government for investing in facilities, buildings and equipment
more than two-thirds (70%) of colleges are now in surplus, meaning they bring in more each year than they spend, up from around half (53%) in 2018
from 2016-22 the sector's total debt fell by almost half (47%) from £1.7bn to £0.9bn, while its cash and short-term holdings increased by 40% to £1.5bn over the same period
from 2020-22 spending on staff increased by just 1.4%, whereas the amount being spent on buildings and equipment jumped by over 50% (52%)
the number of full-time equivalent teaching staff has fallen by a fifth since 2015-16.
UCU is demanding a pay offer in excess of RPI inflation, a national workload agreement and binding national pay negotiations.
College staff work an average of two days extra every week for no additional pay, and salaries have fallen 35% behind inflation over the past twelve years.
UCU general secretary Jo Grady said: 'Our analysis shows the money is there for college bosses to raise pay and treat staff fairly. It is completely unacceptable that employer body the Association of Colleges has so far failed to make any recommendation on pay for the coming year, especially when school teachers are getting an increase of 6.5%.
'College bosses now need to spend less on buildings, reign in their own salaries and use some of the cash they have in the bank to support the staff who keep their colleges running.
'Our members are well aware their pay is being held down while college principals rake in more than ever and next week they will begin voting to strike in our biggest ever college ballot.'
Last updated: 19 September 2023