•
•
•
•
•
•

Funding cuts: lobby of parliament
Funding cuts: lobby of parliament
6 March 2014

In response to funding cuts in further, higher and adult education, UCU organised a mass lobby of parliament on 2 April 2014.
Our thanks to the hundreds of UCU members who attended the lobby on 2nd April.
It was a busy and successful event, with members securing meetings with their MPs to put forward the case for investment in post-16 education.
UCU general secretary Sally Hunt wrote a piece for the Times Education Supplement to coincide with the lobby which outlined how vital public funding is to the UK education system.
---
Heading to parliament to lobby against funding cuts on education @UCUBath @ucu @UCUAnti_Cas #uculobby

— Kate Seaman (@katiedaily84) April 2, 2014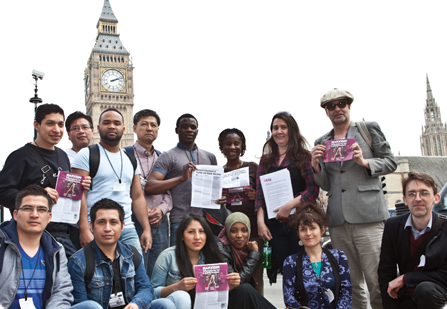 Students from Lambeth College (above) and Tower Hamlets College joined UCU members to support the lobby
Sally Hunt on @LeftFootFwd talking about today's #uculobby http://t.co/f2Mlv4Q7oa

— UCU (@ucu) April 2, 2014
#solidarity with @ucu members lobbying MPs today - put money into education, don't take it out http://t.co/8U8WLmdtCG #uculobby

— Tim Lezard (@TolpuddleTim) April 2, 2014
Waiting to lobby my mp at parliament @ucu #uculobby @UCUBath pic.twitter.com/fkXuEmiYsd

— Kate Seaman (@katiedaily84) April 2, 2014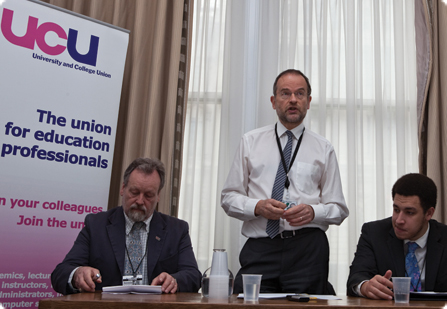 The lobby was supported by Paul Blomfield MP (middle) and UCU President Simon Renton (left)
Very busy in Parliament's Central Lobby as UCU members meet with their MPs for the #uculobby

— UCU (@ucu) April 2, 2014
Met with Doug Hope from Wombwell to discuss further and higher education funding at today's #UCUlobby of Parliament. pic.twitter.com/4FEj6ADC5I

— Michael Dugher (@MichaelDugherMP) April 2, 2014
Last updated: 29 January 2020