•
•
•
•
•
•

UCU anti-stress & bullying week: 17-21 November
UCU anti-stress & bullying week: 17-21 November
Monday 17 November sees the start of UCU's 2014 anti-stress & bullying week in post-16 education in the UK.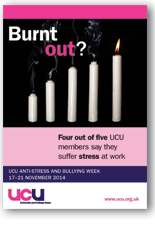 This week of action has become a focus for raising awareness and an opportunity to include these issues in local campaigning and joint negotiations. The aims for the week are to:
raise members awareness about stress and bullying
investigate the scale of the problem in your workplace
identify and develop strategies for negotiating to overcome employer poor practice.
Find all posters and other resources here
---
Branch activities
Before the week
Put up posters around the workplace, in staff rooms etc. and tell people about the week.
Do an audit or review of your employer's policies and procedures on stress and bullying, and identify weaknesses and consequent bargaining priorities.
Set-up a stress working party - invite other campus unions to participate.
Encourage members to ask the employer for the risk assessment information that covers their own job - employers are required to give workers information about the risks identified by the assessment, and what has been done to protect them from those risks.
Organise UCU safety reps to ask the employer for copies of the recorded risk assessment key points for the staff they represent; (remember, employers are legally required to give this information to UCU safety representatives if they ask).
Try to establish any areas in the institution where there are high levels of stress, so you can do more work there during the week.
Ask your employer for sickness absence statistics for stress-related causes; use these to identify areas of high levels of stress-related absence that need to be investigated.
Plan activities you can hold at work; a members meeting; a campaign to get more UCU health & safety reps appointed; a lunchtime demonstration where there are 'hot spots' of stress-related absence.
---
During the week
Organise a workplace inspection by the branch safety representatives to focus on one aspect of stress - for instance workload, excessive hours, or bullying. This must be a practical inspection - the reps going round asking questions, talking to members and non-members alike to identify issues that need to be taken up, promote anti-stress awareness and UCU organisation. See prompting factsheets.
Hold a one-off meeting on stress, encouraging members to bring issues to the branch's attention, and develop a discussion about what needs to be done to tackle them. Extend an invitation to non-members too - it's another recruitment opportunity.
Promote a simple campaign to run during the week. Ideas include:

take your proper lunch-break this week
don't take work home today
declare your workplace a 'bullying-free zone'.

Do some work with a sample of members to review the risk assessment information they and/or you were given about their work/job, and evaluate its effectiveness in protecting the member from poor and harmful working conditions.
Run an information campaign to encourage members to record stress injuries as accidents.
Set-up information and advice tables in prominent places around the campus during the week. Have posters, factsheets, and recruitment material available. Invite staff to report problems, ask questions, start a discussion about working conditions and what needs to be done to improve them.
Organise an advice surgery at one or more lunchtimes.
Just hand out leaflets, talk to members in a staff room and collect information.
Here are some examples of activities reported by UCU branches and local associations during previous anti-stress and bullying weeks.
Local examples

Institution

Anti-stress week event/activity

FE/adult

Aylesbury College

We had a mental health nurse in as a guest speaker to talk to about fifty staff!

City College Plymouth

We organised an awareness week. Different information popped up daily on all staff computers, ending with a question - as the staff 'click' a reply these were recorded - around 45% staff responded in some way to the questions/ information ... Every member of staff received an information card with some ways to consider solving stress issues/ recognising possible solutions. Book marks were on offer to promote UCU locally and Recourse. A rolling PowerPoint - lasting 8 minutes was put on display in the main reception. A short questionnaire was located in staff rest areas (together with lots of posters etc.) Results will go into staff bulletin released at same time as mgmt survey results. At lunch time and breaks we visited areas to talk to staff.

City Lit

Mentioned at several branch meetings and the emails were distributed.

Coleg Gwent

We sent out a Lecturers Workload Survey to all UCU members (so far we have had about 10% returned). We will be analyse the results in December and issue them to members and management. We also requested a special meeting with Corporate Management Team to discuss the extreme pressure which is being felt by members at Coleg Gwent.

Croydon Adult Learning And Training

Posters and leaflets went out to all centres across the borough bar one ... Stress has been and should be a remaining item on the agenda for the Joint Consultative Group termly meetings between the union and the employer... We have had a branch meeting for sessional tutors this week and stress was briefly discussed. The branch has also been working to ensure that information is available from employer to sessional tutors who do not normally have access to council intranet. The branch requested that the link to support for staff regarding stress was also made available to all staff.

Derby College

We held a 'Know Your Rights' surgery at the The Roundhouse campus of Derby College last Friday lunchtime, which naturally included bullying and stress as major topics.

Halesowen College

The union ran a staff awareness week. Posters from head office were distributed in most staff offices. The branch has asked that stress management is an agenda point on the upcoming Health and Safety forum where UCU will receive feedback on data requested concerning staff illness and absenteeism.

Hugh Baird College

We ran a very successful HSE Stress Survey earlier in the year which with over 250 surveys being submitted ... We have presented the analysis and raised this point in numerous JCC's and H&S Committee meetings since. We also have union notice boards in all staff rooms and relevant areas displaying anti stress and bullying posters and leaflets.

Kent Adult Education Service

We were able to put posters up on our UCU board across the county.

Loughborough College

The main activity here was to publicise our Excel workbook tool to help our members evaluate their workload.

This can be used to various ends including

1. Adjust their own work patterns

2. Provide evidence of unachievable workloads

3. Form a basis for discussions with managers regarding workload.

This has been used successfully more than once at Loughborough. I have also shared it with others in the UCU at different places and have had positive feedback.

Manchester College

There were stands in prominent positions at various college sites, from lunchtime to 4.30 pm. UNISON joined us for the activity. We spoke to a lot of staff, both members and non-members, and a number of non-members took UCU application forms. The RO is supporting other activities during the week. Lots of general comments along the lines of 'Something needs to be done about it'.

New College Nottingham

On our High Pavement site, we took part in a lunch-time walk out. About half of the lecturing staff took part, making a point of taking their 45 minute lunch-time off site. We have also asked our members to fill in a stress questionnaire and complete a work log. We intend to present the results to management in a few weeks when they have all been completed.

Newcastle College

We have published the results of the national stress survey and also a bullying and stress survey. 350 members were e-mailed, and 250 newsletters put out.

Oxford & Cherwell Valley College

Part of a branch meeting. There have been concerns about growing stress levels. About 20 posters were put up - of some use. Stress and bullying was raised at the JCNC and we asked for statistics on absenteeism and sickness.

Solihull College

At the moment we are focusing on a working party to deal with stress, which will incorporate these issues.

South Thames College

STC UCU Branch has been displaying your excellent Posters on Stress throughout the college this week. We have also been circulating the leaflets. Stressful working conditions will be discussed at our Branch meeting this afternoon.

Truro College

We raised the issue of work related stress at Common Interest and I made a statement that workloads were increasing without any corresponding relief on time. We are also conducting the UCU stress survey amongst our members in the next three weeks. Once we have collated the information we will be presenting our findings to SMT.

HE

Aberdeen

One hour Lunchtime meeting at Aberdeen University - 20 people attended; some reasonable discussion. Followed by 2 hour meeting of Branch activists and officers on organisational possibilities to tackle stress.

Huddersfield

We distributed posters to all staff in our business school and put up posters at our two satellite campuses at Oldham and Barnsley. All UCU members have been emailed with details of the work of Recourse in relation to stress. We will be doing a stress survey of all staff in the near future.

London Met

Held a meeting on Tuesday 8th November, Stressed to breaking point? Speakers were John Bamford, UCU's health and safety adviser & Ian Draper, Co-ordinator of the UK WorkStress Network. Very effective for morale, information and tactics/strategy not just for stress but for all H&S work.

Newman College

There were messages on Stress Awareness and Anti-Bullying policies - and what to do to access union help - all week on electric noticeboards in all public places throughout the institution.

Southampton Solent

We have put stress on the agenda in a slightly different way - we are surveying all of our members. The results are pending.
---
After the week
Keep the pressure on the employer to improve working conditions and manage the causes of stress to an acceptable level. Use information you discovered during the week to develop a bargaining case to present to the employer.
Improve the way your employer conducts risk assessments that deal with stress factors, so they meet the legal standard of 'suitable and sufficient'. You will need to ensure that UCU safety representatives are positively involved in that process.
Develop a strategy for getting more members to become UCU safety representatives.
Establish a joint-union stress monitoring group.
Set-up a branch/LA register to record people who have suffered stress-related illness as a result of what has happened to them at work, to develop our ability to provide evidence of the scale of the problems that exist.
Continue to raise stress issues as a standing item on your local negotiating agenda.
Set up a local training event or ask about a regional training event on stress and bullying, or specific aspects of that like workload or change. Contact training@ucu.org.uk for further information.
---
UCU health, safety & welfare advice
UCU health and safety advisor Alex Lancaster is available to give advice, help and support to branches and UCU representatives and officials on stress, bullying, and any other workplace health, safety or welfare issue.
If he isn't already booked, John is happy to contribute to a branch or LA meeting on stress, and what we need to do about it. Please e-mail any requests as soon as possible.
Additional resources
Last updated: 16 March 2021