•
•
•

Green new deal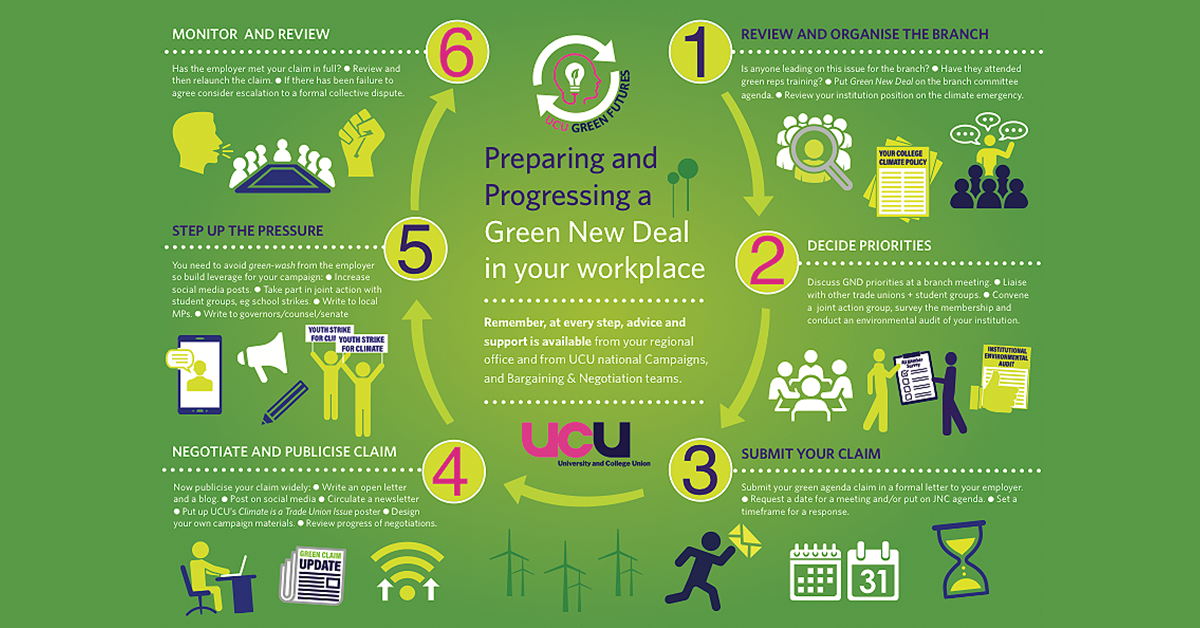 Green new deal
26 June 2020

The green new deal (GND) brings together policy set by both UCU and NUS within a negotiating and bargaining framework.

Branches can find the full and updated bargaining guide here.
Demands include that institutions declare a climate emergency, agree concrete time limited action plans on embedding meaningful environmental policies, climate proof their curriculums, sign up to ethical investment and banking strategies, review food and land use, travel policies and carbon and energy management commitments.
A crucial element of UCU's climate change policy has been building alliances with student organisations and their campaigns. The 'green new deal for colleges and universities' which we have developed together will see our members and our students coordinating with each other to seek urgent and meaningful changes from our institutions.
We have every confidence that UCU representatives and members, working collaboratively and building solidarities with students, can make a significant contribution towards tackling the climate emergency.
An online reps course to accompany the GND is now taking registrations or for more information contact us here.
To get started with the main demands outlined in the GND, a series of quick guides have been developed to support reps and branches getting started on taking each of the demands forward:
Find the full and updated bargaining guide here.

Case study: Liverpool UCU branch GND bargaining claim [339kb]
---
Watch back: Green new deal launch event
UCU general secretary Jo Grady and special guests launch UCU's green new deal agenda for creating sustainable workplaces and taking radical action on climate change.
---
'Bargaining for the future' - trade unionism & fighting for climate in the workplace
Listen to the Green New Deal podcast with UCU's Marianne Quick interviewed about the role of trade unions in addressing the climate and ecological crisis.
Last updated: 6 December 2023