•
•
•
•

Non-lecturers in FE
Non-lecturers in further education
21 October 2015

Information for non-lecturer educational practitioners in further education.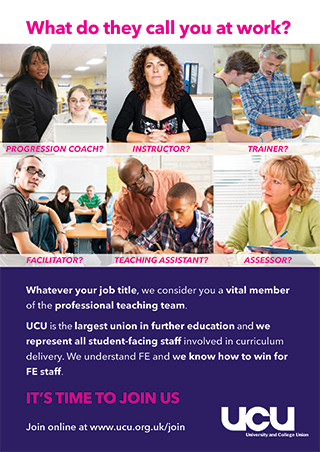 Download and distribute our non-lecturer leaflet [318kb] or order hard copies by emailing campaigns@ucu.org.uk
Recent years have seen a growth in the number of educational practitioners in further education who are not granted the full status of lecturers. These staff are often employed on pay rates that sit below those of a main grade lecturer and with inferior terms and conditions. These 'non-lecturer' staff have a wide range of educational duties and a bewildering array of titles - instructor, trainer, trainer assessor, learning assistant, tutor, tutor/assessor, teaching and learning facilitators and so on. There is inconsistency across workplaces over the use of such job titles but one thing most of them have in common is they teach and/or assess students without receiving the professional recognition or the pay of a main grade lecturer.

Most of these 'non-lecturers' are employed on support staff contracts with no, or unacceptably high, limits on direct student contact, lower holiday entitlements equivalent to those of administrative or technical staff and pay which has no link with teaching pay scales. Some have 'hybrid' teaching-and-support contracts which encompass much of the duties of a main grade lecturer but receive lower support staff benefits.
In England there is no national agreement or agreed guidelines relating to the use of these posts. Further education employers in England have generally introduced them over time without proper negotiation or consultation with trade unions. They have been used as a cheaper option in order to deal with financial pressures and to increase productivity. However in Wales there is an

agreement on the employment of instructor/demonstrator staff in FE [23kb].

Staff involved in the delivery of work-based learning are often engaged on support staff contracts in various teaching and assessing roles with inferior pay, terms and conditions to lecturers. This kind of learning is an area of growth with the strong emphasis on increasing the number of apprenticeship programs. This is another driver for increasing numbers of staff working for colleges being employed in these 'non-lecturer' roles.

Significant cuts to FE funding in recent years look set to continue for some time yet. This means the temptation for colleges to introduce cheaper 'non-lecturer' grades of staff in differently named roles will only grow with the pressure to get the job done for less money.
Information for branches and reps

Campaigning for associate teachers: branch support pack, May 10 [268kb]

Associate lecturers - recruitment leaflet [87kb]

Associate lecturers - recruitment poster [46kb]

Associate lecturers - survey [24kb]


Associate lecturers - survey [24kb]

Associate lecturers - recruitment letter [142kb]

Spheres of influence agreement between UCU and Unison: FE sector, Oct 10 [73kb] - see also:

Unison and UCU: joint statement on non-lecturers, Oct 17 [123kb]
Last updated: 27 October 2017