•
•
•

Guide to COP26
Only to get mobilised for COP26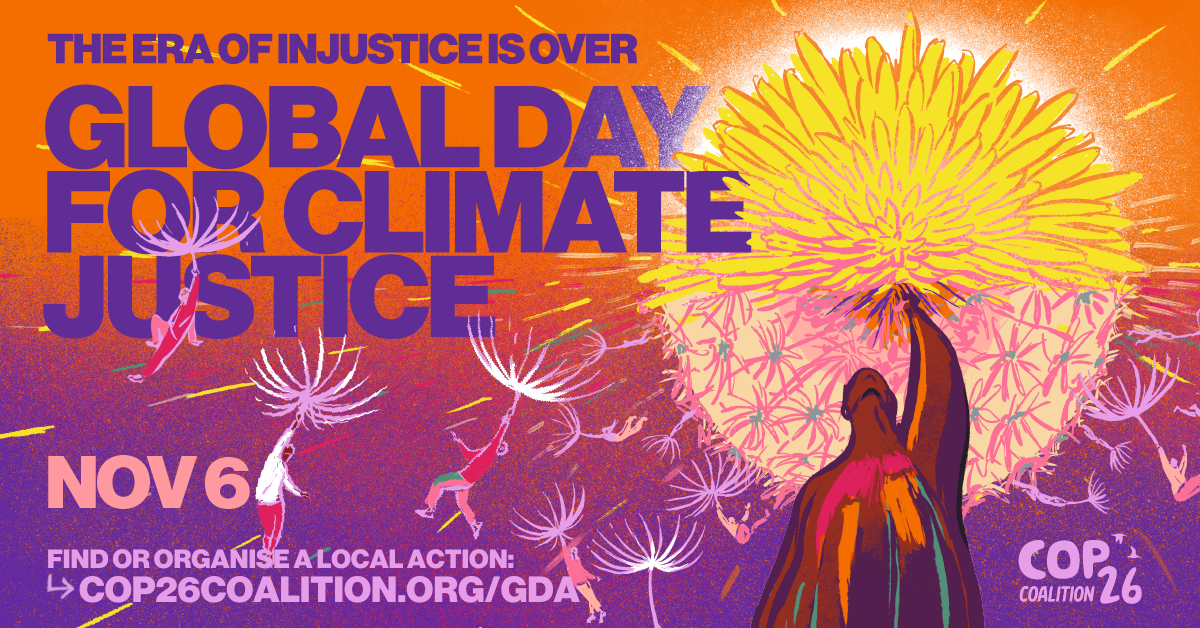 UCU's guide to COP26
Get involved in building the movement.
COP26 is only now only days away.

Climate crisis: workers united for urgent action - statement from the Trade Union Co-ordinating Group [4mb]
Plans are coming together, but there is still a lot of work to do in the coming weeks to make sure the call for climate justice is loud and clear.
UCU is a member of the COP26 Coalition which is working hard to help organise and support mass mobilisations across the UK and the world, support activists to get to Glasgow, and crafting the hybrid People's Summit as well as range of other actions and assemblies to ensure our voices are heard in Glasgow.

UCU wants to help make these activities a success and play our part in mobilising our members into supporting the movement by organising, volunteering, or spreading the message over the coming weeks.
What is COP 26 and why is it important?
World leaders will meet in Glasgow in November at the global climate talks, COP26. The decisions made at COP26 will shape how governments respond (or not) to the climate crisis. We are part of a movement that is bringing climate justice to COP26. Climate justice recognises that all of our struggles lead back to the same unjust system - from climate, to covid, to racism. To solve these problems, we have to solve them all together through system change.
Thousands of people are getting organised to bring climate justice to COP26, in Glasgow and across the world. There are many ways you can get involved from anywhere in the world. Now is the time to join the fight for climate justice - we need all hands on deck.
Global Day of Action
On 6 November, we're joining the COP26 Coalition for the Global Day of Action for Climate Justice. We are bringing together movements from across the world to build power for system change - from indigenous movements, to trade unions, from racial justice groups to youth strikers. Find your local action at: https://cop26coalition.org/gda.
Can't find an action or local hub in your area? Find out how you can organise one.
Get involved in building the movement
Be part of a team of volunteers that will be critical to bringing demands for system change to COP26 by volunteering with the COP26 Coalition and Stop Climate Chaos Scotland. Whatever your experience or skill sets, there are different roles you can apply for. Read more and apply here.
Want to find out more about the COP26 Coalition, our plans and how you can be a part of it from anywhere in the world? Watch the COP26 Coalition webinar here.
At any UN climate change conference, accommodation in the city is always expensive and quickly booked up. This is a huge obstacle for people and groups with fewer resources who need to mobilise for the COP. If you live in the central belt of Scotland and have an open floor, sofa or room, support the climate justice movement at COP26 by hosting a guest. Find out more and sign up as host.
For more updates from the COP26 Coalition, follow them on social media or sign up to their Newsletter
People's Summit for Climate Justice 7-10 November
Registration open! Help us spread the word to global and local movements!
The COP26 Coalition is hosting the People's Summit as an alternative to business as usual of false solutions and inaction at the COP negotiations. The summit will be held both in-person in Glasgow and online.
Join us in imaging our future, combining our knowledge and building the movement for climate justice from the ground up. You can now explore our initial programme and register at: www.cop26coalition.org/ps
Please help us reach local and global movements: Please share / repost / like the following posts: on Twitter | on Facebook | on Instagram
ITUC COP26 climate demands
'Social justice enables climate ambition: unions set course for COP26': download the ITUC COP26 briefing here.
The briefing also contains a link to ITUC's trade union program for COP26. The agenda is still under construction; you find the link here.

All trade union members and activists are invited to participate at the 'trade union strategy day' organised by the ITUC on Sunday 7 November from 9:30 to 17:30 at the University of Strathclyde in Glasgow. The event will be followed by a reception.
Digital access will be provided for those that cannot be present in Glasgow - details to follow.
Learning opportunity for all UCU members: How to bring climate into any conversation?
AimHi Earth are offering their world leading climate and nature course to UCU members and welcome you to share this with student and trade union reps, staff and officers.
This four-week live and interactive course will take place every Wednesday at 12:30 starting on 10 November. Each session lasts about an hour.
The course focuses on driving behavioural change as well as increasing understanding, awareness and communication of the climate and ecological emergency. AimHi Earth are offering this course at no cost (standard cost £25pp) but welcome any voluntary donations from attendees.
To register for the course follow the eventbrite link here.
Green New Deal bargaining course - November training for green reps and aspiring green reps
Join our next Green New Deal (GND), bargaining and negotiating training course this November. The course will run over 3 mornings of 12, 19 and 26 November, and will provide useful resources and training for progressing the GND and aspects of the model claim at your institution. You will also have the opportunity to meet and join forces with other activists working to progress climate and sustainability issues at their places of work.
Sign up for the GND course here.
Sign the War on Want petition - demand climate justice & a global Green New Deal
Please take this simple step and sign the petition today:
War on Want | Fighting Global Poverty
COP26 gives people across the world an opportunity to hold governments to account, and we must stand with them. We have to keep the pressure up.
That this is the 26th annual conference to deal with the climate emergency shows just how short on ambition world leaders have been. That's a quarter century that the UN has been trying to corral governments into action.
The prime minister will have to dig very deep to get the commitments and the cash needed to transition to a carbon free world and mitigate the already terrifying impacts of climate breakdown. He will also have to answer for his own government policies that are falling far short of his rhetoric.
The PM claims to recognise the impacts of climate crisis on the world's poorest, but has slashed the UK aid budget. He says that 'history will judge' those that don't step up, yet he continues to subsidise and protect fossil fuel companies' profits. The UK must be at the forefront of setting the boldest of targets for action and funding.
What is it like to attend COP in person?
As activists get ready to attend COP26, your networks or students may be interested in this OU interactive that explains what it is like to attend COP in person.
Last updated: 27 October 2021