•
•
•

The Friday email: 15 March 2019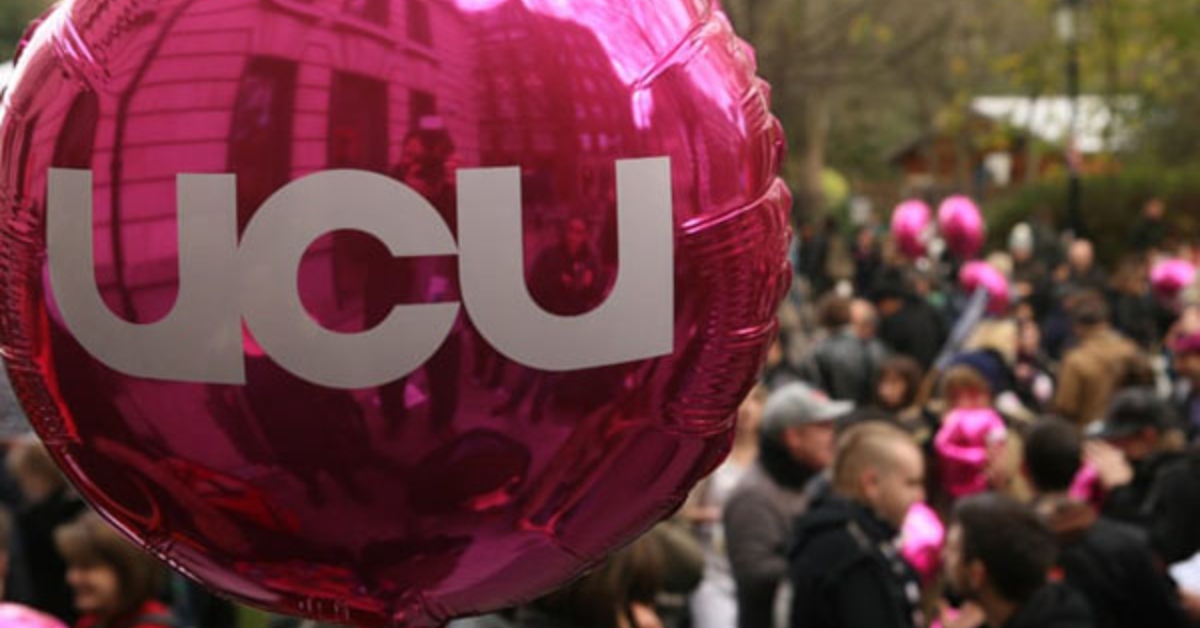 The Friday email: 15 March 2019
FE fights back: next wave of strikes

Next week is a critical point in the union's fight back campaign for a decent deal for further education (FE) staff with strike action at nine colleges on Wednesday, Thursday, and Friday 20-22 March, and at West Thames College on 18-20 March. Please send message of support and photos from the picket lines for our wall of support by tagging #FEfightsback or #FairpayinFE or emailing direct.

Statement on New Zealand terror attack

Following a minute's silence UCU's national executive committee (NEC) meeting today unanimously agreed a statement condemning the terrorist attack in New Zealand.

UCU encourages you to be a part of the United Nations international day of action tomorrow against racism by joining the demonstration in London, Glasgow and Cardiff.
In the news
The Teaching Excellence Framework is not fit for purpose, failing students and deeply unpopular said a UCU-commissioned report out this week. UCU branded the Office for Students a paper tiger following a lightweight report on vice-chancellors' pay. An investigation comes to light at De Montfort University as the vice-chancellor finally resigns. UCU takes a Valentine's message to the Treasury. Ballots open in London and Coventry, while a strike in Edinburgh is suspended at the eleventh hour.
Read all about it here.
Teachers' Pension Scheme (TPS): no cuts at University of Winchester

An increase in Teachers' Pension Scheme (TPS) contributions expected to be met by the employer has lead to a squeeze on post-92 universities but the union is clear that we will resist attempts by employers to use this as an excuse to cut jobs. University of Winchester is the first institution to announce job cuts and UCU is concerned that TPS may be a smokescreen for a damaging reduction in the academic offering of the university. The union is now campaigning against proposed cuts at Winchester and a consultative e-ballot for action is taking place. Please send messages of support for members at Winchester here.

Update on higher education pay and equality

The higher education committee (HEC) met recently and made a number of decisions in regards to the pay and equality dispute 2018/19 and the development of the joint trade union claim for 2019/20; please see this branch action note that provides details of the decisions and in particular the conclusion of the dispute. The 2018/19 HE national pay scales can be found here. The next steps in the developments of the 2019/20 and the dates for the negotiating meetings are advised. Branches will be updated with the developments in the pay negotiations as they progress.

Latest USS update

This update seeks to explain as straightforwardly as possible the employers' proposal for contingency contributions and sets out UCU's policy and was circulated earlier this week.

UCU apprenticeship policy event, Tuesday 2 April

On Tuesday 2 April, UCU will host a discussion event in Westminster looking at apprenticeships policy and how to ensure apprenticeships are a high-quality, accessible and attractive option for young people. Chaired by UCU vice-president Nita Sanghera, the event will run from 5pm - 6.15pm in Westminster and feature input from shadow skills minister Gordon Marsden, UCU FEC vice-chair Sean Vernell, Professor Alison Fuller and Ian Pretty from the Collab Group. If you wish to attend please register here.
University of Liverpool UCU ballot for action

The Times Higher reported earlier this week on the dispute at the University of Liverpool over unreasonable research targets in the lead up to the Research Excellence Framework (REF). A ballot for industrial action is now open and closes on 5 April. Messages of support should be sent here.

Turkey: UCU protest at jail sentence for peace petition signatory

As part of our ongoing solidarity work, UCU has written to the Turkish authorities to condemn the fifteen month jail sentence given to Professor Füsun Üstel, a retired political scientist from Galatasaray University. Professor Üstel is one of the many 'Academics for Peace' who have been targeted by the Turkish government for signing a peace petition in 2016. Please sign this online petition in support of Füsun Üstel.

UCU LGBT+ research conference

This one-day research conference takes place on 17 May in Manchester. Deadlines: call for papers 25 February, registration 1 May.
Last updated: 3 June 2019