•
•
•

The Friday email: 10 May 2019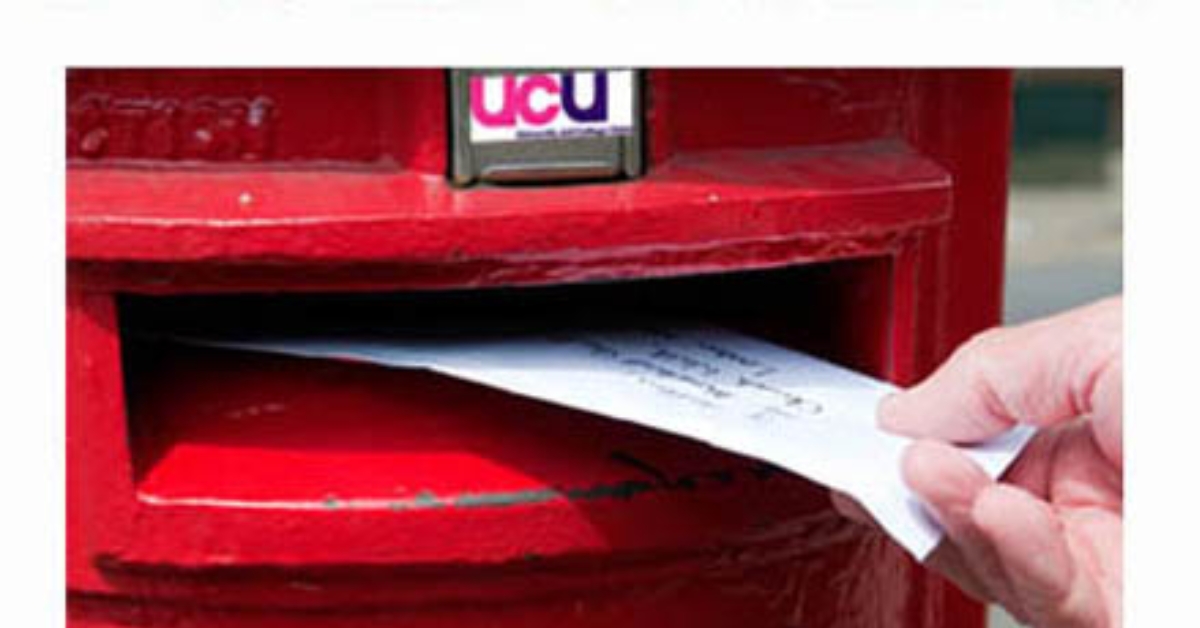 The Friday email: 10 May 2019
UCU general secretary election: vote now
Don't forget to vote in the election for UCU general secretary. Voting is open until 23 May and you can find more details and request a replacement ballot paper here.
USS proposals for finalising the 2018 valuation
Yesterday the University Superannuation Scheme (USS) issued a formal response to the employers' position on contributions, including three proposals for finalising the 2018 valuation. See here for a full update and details of the three options which members will need to consider.
In the news
This week: USS, prison education cuts, University of Winchester ballot, Lambeth College settle dispute, backlash over Stourbridge College closure, strike at West Thames College, Stephenson College senior pay criticism.
Read all about it here.
FE fights back: strikes off as Lambeth College UCU settles claim
UCU members at Lambeth College have called off next month's strikes after agreeing a deal with the college worth over 3% in pay with additional holiday days, sick pay benefits and a reduction in teaching hours.

Staff at West Thames College took strike action this week after pay talks broke down and members at Croydon and Hackney Colleges are being balloted for action as part of the FE fights back campaign.
University of Winchester members vote for action over jobs
Congratulations to the University of Winchester branch who smashed the Tory anti-union threshold with a 58% turnout and 80% of voters backing strike action over plans to cut 55 jobs. The university has sited cited changes to TPS pension costs as the rationale for drastic cuts but UCU argues this is not necessary and warns management it must rule out compulsory redundancies if it wants to avoid disruption.
Ask your MP to raise the issue of college pay at Treasury questions
We are working hard to keep the pressure on the government over further education pay and funding. Please help us by writing to your MP and asking them to raise the issue of college pay and funding at Treasury questions on Tuesday 21st May (they will need to submit their question by Wednesday 17th May), and tweeting using the #LoveOurColleges hashtag to say why you think the government should invest more in colleges and their staff and students. You can find out more about the Love Our Colleges campaign here.
Ruskin College: reinstate Lee Humber
Please join the rally in support of our victimised member, Lee Humber, in Oxford on Saturday 18 May. Assemble at 11.00am at Cowley Place, The Plain, Oxford, OX4 1DX.
NEON and UCU - future of admissions
This summit on the Monday 3 June 2019 brings together key organisations from across educational sectors together to examine what kind of admissions system we need that can best support students. It will look at recent research re-imagining the admissions system, include updates from sector bodies on their work in improving the system and examine how universities, colleges and schools are delivering admissions work.
Prison education: stop the cuts
UCU has called on the Secretary of State for Justice to intervene over plans to cut over 100 prison education jobs across the north of England and you can read the full story here.
Demonstrate for Palestine, 11 May
Along with a host of UK trade unions, UCU is supporting the national demonstration for Palestine on Saturday 11 May in central London.
Last updated: 10 May 2019