•
•
•

The Friday email: 24 September 2021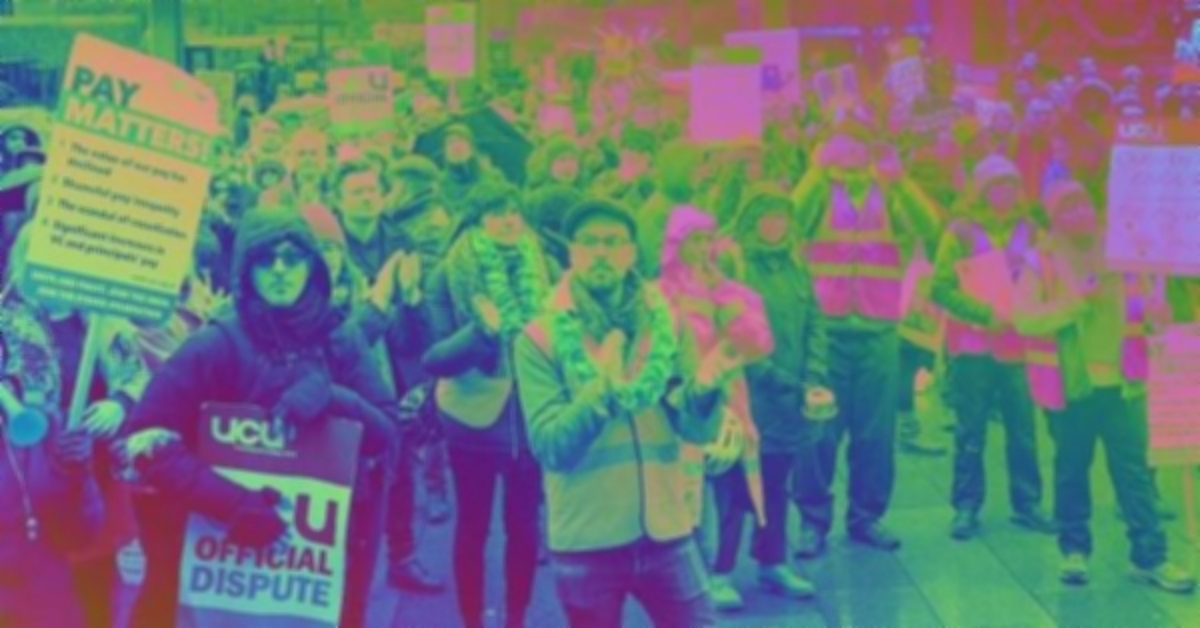 The Friday email: 24 September 2021
24 September 2021

Higher education disputes: ballot timetable and your data
On Monday 20 September, the elected representatives on UCU's higher education committee (HEC) decided the timetable for UK-wide industrial action over USS pension cuts and Four Fights (pay, workload, casualisation, and equality). You can watch a video message from UCU general secretary Jo Grady. The National Union of Students (NUS) has offered their support over UCU's action.
The institutions being balloted are listed here, and the timetable for action on both USS and Four Fights is:
Monday 18 October - ballots open
Thursday 4 November - ballots close
Monday 8 November - HEC meets to consider results
You can help right away by checking and updating your contact details through MyUCU, and encourage your colleagues who are not yet in the union to join us, so that they could be included in the ballot.
Further education disputes: justice for college teachers and solidarity rally
UCU members at 13 colleges across England are walking out from Tuesday 28 September for up to 10 days after the employer body offered just 1% pay rise to staff. You can find out more details on the colleges affected and their strike dates.
You can help by disseminating our strike leaflets, asking your colleagues to join UCU, and share our #RebuildFE video.
An online solidarity rally will be held on Monday 27 September at 6pm. Speakers include UCU general secretary Jo Grady, UCU president-elect Janet Farrar, UCU head of further education Andrew Harden, as well as the general secretaries of NEU, PCS and BFAWU. Please follow this link to register.
You can read our roundup of disputes and wins for members in all sectors.
Health and safety: Covid-19 guidance and breakfast briefing session
Please continue to check UCU's page regularly for the latest health and safety documents for Covid-19. For example, you can read the latest detailed guidance on risk assessments and the latest guidance on ventilation in the workplace prepared by our bargaining and negotiations officials.
You can register for the next UCU health and safety breakfast briefing session, which specifically addresses 'Long Covid: Health and safety approaches'. This will be held on Wednesday 29 September at 9am.
Train yourself up: join our online courses
You can check the UCU training page regularly for new online training courses. If you wish to attend, please consult with your branch.
Courses due to start soon include, among many others: Health and safety 1 (London region); Challenging and handling redundancies (Eastern and Home Counties); Risk assessment (Eastern and Home Counties; North West); Challenging sexual harassment in the workplace (Scotland).
Your pensions: latest on TPS, potential action at Falmouth, strike at Dundee
If you are a member of the Teachers' Pension Scheme (TPS), you should read our latest circular on government consultations for UK public service pension. This includes discussion on age discrimination (cases won by the Fire Brigades Union and members of the Judicial Pension Scheme), cost control, and Local Government Pension Scheme (LGPS).
UCU members at Falmouth University have this week voted overwhelmingly in support of potential industrial action to protect the pensions of newly employed academic staff. UCU has raised concerns about moves at Falmouth to employ new staff under a subsidiary private company, and remove access to TPS, a contractual right that academic-related members in post-92 universities have access to.
The University of Dundee proposes to close its local pension scheme (defined benefit), which is currently the pension scheme for the majority of Dundee's support staff. The employer plans to move its support staff to an inferior defined contribution scheme. UCU has a number of members in the local pension scheme and they will be joining with Unison members to take 5 days of strike action commencing next week (29-30 Sept; 1 Oct; 4-5 Oct). You can email your message of support and solidarity.
Equality groups and retired members: annual conference and meeting
The annual equality groups conference is an opportunity for UCU members to discuss and agree strategies to progress equality issues at work. There will be five separate conferences for black, disabled, LGBT+, migrant and women members; they will be held virtually across Thursday 2 December to Saturday 4 December.
Our retired member branches annual meeting will be held on Wednesday 24 November; click here for details on deadlines for submitting motions and registration.
UCU's activism and campaigning: COP26, Labour Party conference, against cuts to jobs at MHRA, Palestine, and abortion rights
Our joint Climate Learning Month is now in full swing with education and student unions calling for climate education to be embedded in learning across all areas of curricula during COP month—November 2021. UCU's 'Decarbonise and Decolonise for 2030' campaign has gone international in a call to ensure we address the climate and ecological crisis and deliver on climate justice, using education as a critical tool for achieving this. Next week Marianne Quick, bargaining and negotiations official (prisons and sustainability) will be presenting on the campaign at Education International's climate change training series: register for that event here. There are many actions taking place nationally and internationally across the trade union movement to call for climate justice in the build up to and during COP26. Find out more on WeMakeTomorrow.
If you are at the Labour Party conference this Sunday (26 September), come along to our fringe to discuss how we can organise against the market and for public education with UCU general secretary Jo Grady, Kate Green MP, John McDonnell MP, Kim Johnson MP, and Amelia Horgan. Avon Room in the Hilton, Brighton Metropole, 4.00-5.30pm.
We are campaigning with Unite, FDA, Prospect and PCS against cuts to vital medical jobs at the Medicines and Healthcare products Regulatory Agency (MHRA). Having raised concerns with Secretary of State for Health and Social Care Sajid Javid, we are now encouraging MPs to support a parliamentary motion against the cuts. Please contact your own MP and ask them to sign the motion against the planned job losses.
The next Fobzu/UCU Palestine: Education, Occupation and Liberation (EOL) webinar, entitled 'Back to school under siege: Hope amid war in Gaza', will take place on Thursday 30 September at 6.30pm.
On Saturday 2 October, Abortion Rights is organising a #DefendAbortion march in solidarity with the people of Texas facing regressive law changes. Assemble 12 noon at Trafalgar Square.
Last updated: 7 October 2021