•
•

UCU coronavirus advice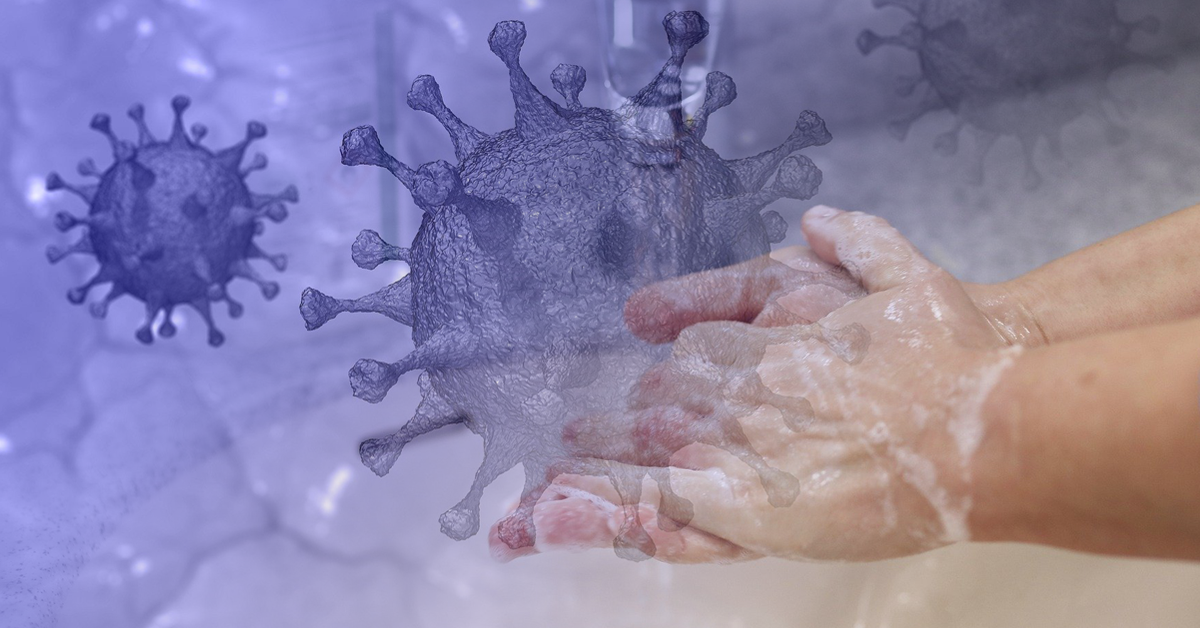 UCU coronavirus advice
16 March 2020

Guidance for members on coronavirus and their rights at work.
Working from home

While the switch to home and online working was, for many, sudden, the public policy of reducing public contact means this will continue for some time.



This document sets out guidance and best practice [204kb] for members for whom working completely at home and online is a new phenomenon arising from the coronavirus shutdown.

It sets out best practice on how to manage your time; keep healthy and safe; what expectations you should have of your employer; and how to interact with your students at what is a very difficult time for everyone.
Taking care of yourself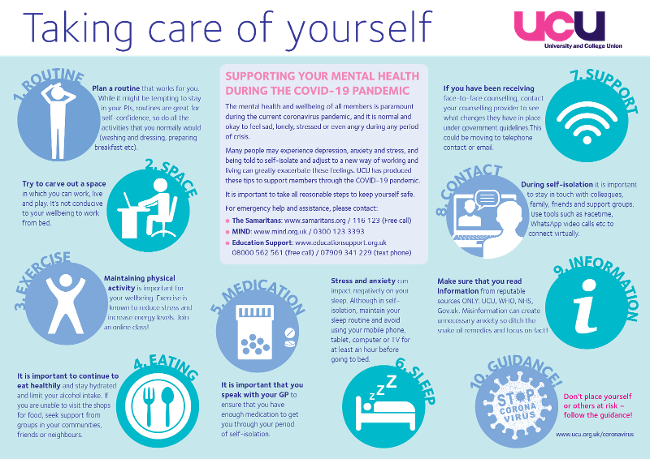 Supporting your mental health during the Covid-19 pandemic [326kb]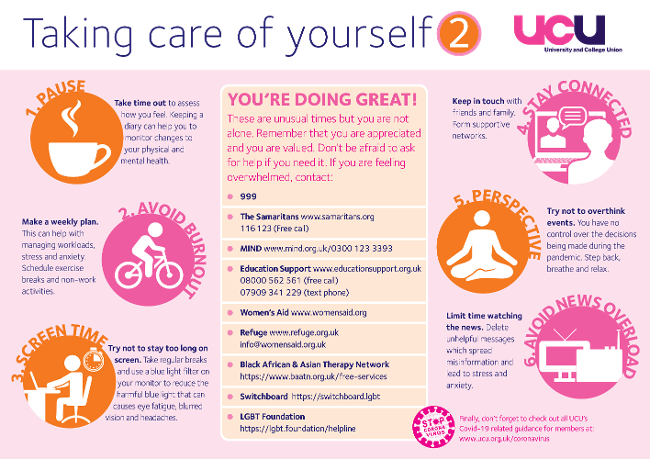 You're doing great - supporting your mental health during the Covid-19 pandemic [309kb]
UCU Covid-19 crisis downloadable guidance
Working onsite:
Information and template letters for individual members with Covid-19 safety concerns asked to return to onsite working.
Guidance for UCU branches updated in September 2021 has gathered together information on emerging Covid-19 risk factors to support branches in updating risk assessments. UCU will further update its guidance in response to any announcements over re-opening education settings.

Individual and collective rights on health & safety issues for in-person working in HE in Scotland [141kb]
FE:

Critical worker status guidance - FE England [106kb]


Critical worker status guidance - FE Wales [103kb]


FE return 'five Ws' [178kb]


FE England joint union tests [153kb]


Hazards and controls in FE [237kb]


FE return: branch guidance [220kb]


Wales FE early returners [252kb]


Agreed FE Wales workplace return protocols [876kb] - these Covid-19 Protocols for FE have been agreed in the national negotiating Forum (WNCFE) in Wales by the employer representatives and the joint trade unions (JTU). It is the view of the WNCFE that employer and staff should abide by these protocols to help look after the safety and well-being of all. It is the view of the JTUs that these agreed protocols take precedence over the government guidance.
HE:

Critical worker status guidance - HE England [100kb]


Key worker status guidance - HE Scotland [96kb]


Individual and collective rights on health & safety issues for in-person working in HE in Scotland [141kb]


HE workplace return: updated health & safety guidance [240kb]


HE workplace return: branch guidance [209kb]


Campus reopening: branch guidance [233kb]


Hazards and controls in HE [259kb]


HE return: five tests [156kb]


UCU Scotland: five tests [198kb]


HE branch workload guidance [171kb]
Prison education:

Covid-19 hazards and controls in prisons [292kb]
Member guidance:

Covid-19: Ventilation at work (September 2021) [245kb]


ARPS Covid-19 guidance update [259kb]


BAME members' risk assessment guidance [264kb]


Home working/online teaching [204kb]


Annual leave [213kb] (

(Wales version) [386kb])


Mental health [326kb]


Job retention scheme [247kb]


Self-employment [167kb]


Equality issues [353kb]


Agency workers [206kb]


Disability [120kb]


Prison education delivery [210kb]
Other information:

Branch lecture capture guidance [344kb]


Updated Covid-19 guidance for branches - Jan 21 [180kb]


UCU reps briefing on 'long Covid' [211kb]


Branch guidance [290kb]


Protecting jobs in HE [160kb]


Protecting jobs in Scottish HE [176kb]


Union democracy [234kb]
---
FAQs
What is coronavirus?
Coronaviruses (CoV) are a large family of viruses that cause illness ranging from the common cold to more severe diseases such as Severe Acute Respiratory Syndrome (SARS-CoV). Coronavirus disease (Covid-19) is a new strain discovered in 2019 which had not been previously identified in humans. The primary symptoms are a high temperature - you feel hot to touch on your chest or back and a new, continuous cough - this means you've started coughing repeatedly.
What should I do if I think I or someone I live with has these symptoms?
The government is asking that if you or anyone in your household has one of those two symptoms, then you should stay at home for fourteen days. That means that if possible you should not go out even to buy food or essentials, other than for exercise, and in that case at a safe distance from others. If necessary, you should ask for help from others for your daily necessities. And if that is not possible, then you should do what you can to limit your social contact when you leave the house to get supplies.
What advice has the government given to the general population?
In March 2020 the UK government asked that everyone stop non-essential contact with others and stop all unnecessary travel. They asked that people start working from home where they possibly can and avoid pubs, clubs, theatres and other such social venues. The UK government said that avoiding all unnecessary social contact, is particularly important for people over 70, for pregnant women and for those with underlying health conditions.
UCU believes that with regard to universities and colleges the UK government's advice does not go far enough. We called for universities and colleges to shut down their core functions, particularly those which involve face-to-face interaction or bring large numbers of people together. We recognise that some university and college infrastructure should stay open, including student accommodation and, where agreed with staff, medical research units. The exact pattern of closures will vary depending upon the institution but its parameters should be agreed with UCU and other staff trade unions which prioritise the safety of students and staff.
If I am at work what steps can I take to limit the spread of the virus?
Because it's a new illness, nobody yet knows exactly how coronavirus spreads from person to person. Similar viruses are spread in cough droplets, or via hard surfaces infected with the virus. It is not certain how long the virus that causes COVID-19 survives on surfaces, but it seems to behave like other coronaviruses. Studies suggest that coronaviruses (including preliminary information on the COVID-19 virus) may persist on surfaces for a few hours or up to several days. This may vary under different conditions (eg, type of surface, temperature or humidity of the environment). If you think a surface may be infected, clean it with simple disinfectant to kill the virus and protect yourself and others. Clean your hands with an alcohol-based hand rub or wash them with soap and water. Avoid touching your eyes, mouth, or nose.
The government advises that you:
wash your hands with soap and water often - do this for at least 20 seconds
always wash your hands when you get home or into work
use hand sanitiser gel if soap and water are not available
cover your mouth and nose with a tissue or your sleeve (not your hands) when you cough or sneeze
put used tissues in the bin immediately and wash your hands afterwards
try to avoid close contact with people who are unwell
avoid touching your eyes and nose as far as possible.
My university or college has asked me to provide online learning or supervision to students?
Many universities are proposing to move away from face to face teaching or supervision in response to the virus. Where staff are instructed individually or as part of an institution's general policy to work from home and provide support 'online' for students our legal advice is that this will generally constitute a reasonable request.
In the current crisis staff will want to do their best for their students including by providing, where possible, instruction and advice online. However, institutions need to set out clearly how and with what equipment this interaction will take place. The size of this task is one reason why UCU has called for institutions to pause between the shut down of face-to-face teaching and the onset of an online offer. This period would allow the institution to agree how online learning will operate with UCU and give staff enough time to prepare suitable materials for an online environment and also for the union to agree safeguarding of members' intellectual property and performance rights (see below).
What responsibilities do institutions have regarding my health?
It is an employer's duty to protect the health, safety and welfare of their employees and other people who might be affected by their business. Employers must do whatever is reasonably practicable to achieve this. This means making sure that workers and others are protected from anything that may cause harm, effectively controlling any risks to injury or health that could arise in the workplace. Employers have duties under health and safety law to assess risks in the workplace. Risk assessments should be carried out that address all risks that might cause harm in your workplace. Employers must give you information about the risks in your workplace and how you are protected, also instruct and train you on how to deal with the risks. Employers must consult employees on health and safety issues. Consultation must be either direct or through a safety representative that is either elected by the workforce or appointed by a trade union. If you have doubts about any aspects of your institution's planning for COVID-19 with specific regard to your health you should raise your concern directly with your manager and make sure your local UCU branch representative is copied in.
See also Thompsons Solicitors briefing on employer and employees' responsibilities in the wake of coronavirus.
What should I do if I feel unwell?
If you feel unwell with symptoms of the coronavirus you should self-isolate in line with the advice in question 2. If you feel ill in any other way you should err on the side of caution at this time and inform your employer that you are unwell and will be off work.
I am on a casual contract, what are my rights if classes do not take place?
Non-salaried staff are sometimes not paid if for any reason their classes do not take place or they fall sick. UCU has called for all staff in this situation to be paid as normal based on their regular patterns of work. This is not only fair but will also assist in limiting the spread of the virus.
See also: Protecting precarious workers
What should I do if I am asked to do something that I consider dangerous?
There is a general legal duty, set out within Section 7 of the 1974 Health and Safety at Work Act to 'take reasonable care for the health and safety of himself and of other persons who may be affected by his acts or omissions at work'. If arising from your institution's COVID-19 policy you believe that you or those in your care are in danger, you should raise the issue directly with your immediate line manager and seek their instruction and also immediately contact your local UCU branch. There is a further legal right to leave the workplace, under Section 44 of the 1996 Employment Rights Act, 'in circumstances of danger which the employee reasonably believed to be serious and imminent and which he could not reasonably have been expected to avert'. However, the legal bar for such action is high and heavily dependent on the particular circumstances; members should therefore seek advice from the union BEFORE they do this.
Following the government's call for colleges to prepare for return on 1 June we have issued

guidance to branches on the discussions which need to take place with management. [220kb].
I have been asked to record a lecture or class for playback off campus to students?
Staff should take care to ensure that any recording of a lecture or class is subject to an agreement between UCU and the institution before they agree to allow the archiving of any recording. Where no agreement exists and the terms and conditions of lecture capture are inadequate to protect your rights, members should not sign such terms and should set out clearly that any recordings they make can only be used with their permission and that permission is granted only for the duration of the current crisis. Your local branch will be able to advise you further on any local policies that exist. See also: Intellectual property
I am an academic-related/professional services staff (ARPS) member required to attend my workplace, what should I expect my employer to do to ensure my health & safety?
UCU is aware that some ARPS staff in areas such as IT and facilities will need to attend on-site as part of skeleton staffing teams, to ensure that their institution can continue to function and to provide and maintain essential services eg, IT support for online teaching and learning.

Please read our guidance for ARPS members here. [259kb]
I have been asked to work but I am in a vulnerable group. What should I do?
The government has indicated that those aged 70 or over are particularly vulnerable to catching Covid-19. If you are aged over 70 you should contact your line manager to request that you not be required to work in situations that involve face-to-face work and if this request is refused you should raise the matter with your local UCU branch. If you are under 70 but have a relevant underlying health condition or are pregnant you should make a similar approach and ensure you let the union know if your request is refused.
The current pandemic presents additional challenges and barriers for UCU members with disabilities and there is

some specific advice here [120kb].
There have been two key pieces of guidance on pregnancy and coronavirus:
Maternity Action (who UCU affiliates) is a useful source for pregnancy and maternity rights in general.
I am an international member of staff or student on a visa. How would non-attendance due to coronavirus affect me?
We are also asking all employers to notify all relevant staff of the revised Home Office guidance regarding absence of those on Tier 2, 4 and 5 visas due to COVID-19. We have also written to employers to seek their assurance that, in line with the recently revised guidance from the Home Office, they will not take any visa compliance action against students or employees who are unable to attend their studies/work as a result of the coronavirus outbreak.
See Covid-19 information for international staff for more detailed information.
How will my pension be affected?
Most members working from home will not see any effect on their pension but those on furlough and who volunteer in the NHS may need to check the effect on their benefits. UCU have been involved talking to the schemes to get protection for members in these times. The links below will take you to the webpage of each scheme where you should find answers to your questions. Any other queries please contact pensions@ucu.org.uk
I am due to travel outside the UK as part for my work. What should I do?
If you are a member of a vulnerable group you should not travel unless it is absolutely necessary. For work-related travel you should consider whether the trip would be better postponed and, if not, seek the advice of the Foreign Office on the Covid-19 situation in the country that you are travelling to.
---
See also:
Last updated: 18 November 2021