•
•
•

Higher education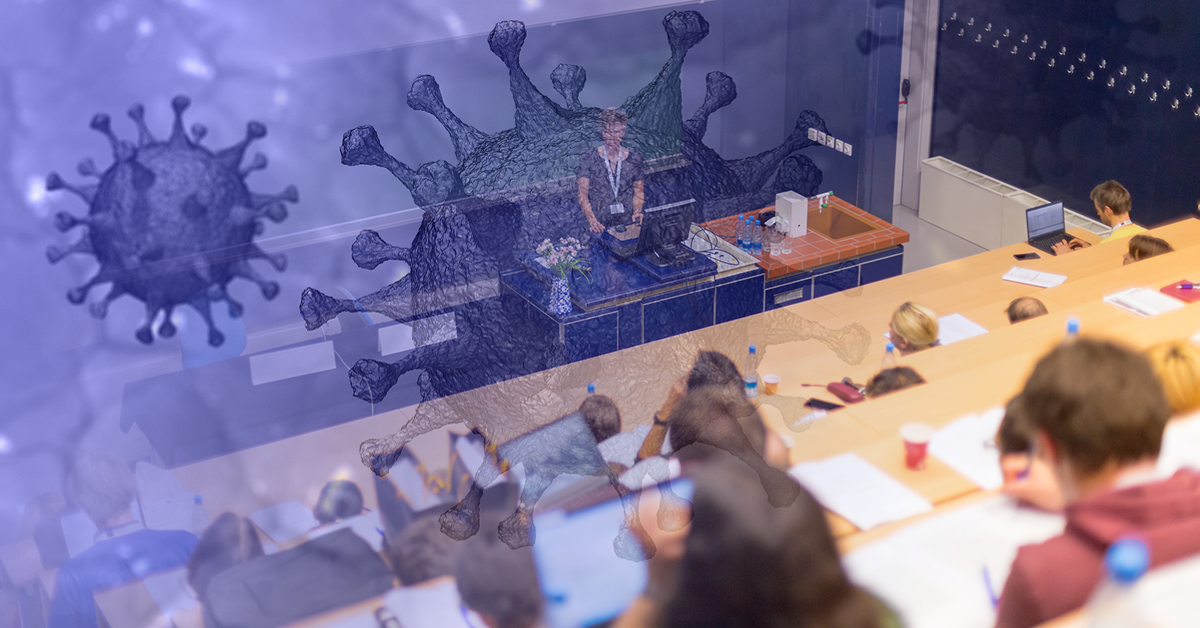 Information for HE members
29 August 2020

Covid-19 crisis information and advice for member working in higher education.
HE-specific advice for members
See also the joint statements and approaches agreed with UCEA about Covid-19:
Branch health and safety briefing:
Key member news on the crisis and its impact on higher education
12 January 2022
UCU has called on university and college employers across the UK to 'raise their game' in the fight against Omicron by allowing vulnerable staff to work remotely and ensure higher quality face masks are freely available for all staff working in-person on campus.
The call is part of updated guidance that aims to keep staff and students safe, and minimise disruption to learning as Omicron cases continue to rise.
The union has also said that all indoor spaces on campus must be monitored to ensure effective ventilation, and that where necessary air filtration units should be used to maintain clean air.
Upgrade face masks, guarantee sick pay & protect vulnerable staff on university & college campuses in Omicron fight
3 September 2021
Briefing for HE members which includes an opening section covering health and safety issues.
28 July 2021
UCU has welcomed employer support for student vaccination and has called for wider health & safety and workload commitments. This comes after the union welcomed Labour joining the union's calls for students to be prioritised for vaccines.
26 July 2021
In response to reports that the UK government has considered compulsory vaccines for students UCU said making vaccinations compulsory as a condition to access their education 'is wrong and would be hugely discriminatory against those who are unable to be vaccinated, and international studentsin response to UK government has considered compulsory vaccines for students': UCU responds to reports of compulsory vaccines for students
23 July 2021
UCU has issued a stark warning to governments across the UK that unless vaccines are made available to students and strict health and safety measures put in place on campus the chaos experienced by students in university and colleges last year is set to be repeated. The rolling back of Covid-19 restrictions by governments as cases surge could be a 'recipe for disaster' for post-16 education, with universities particularly vulnerable as over one million of students travel back to live and study in towns and cities away from home: 'Fully vaccinate students or face even worse disruption to education', UCU tells governments
12 July 2021
UCU said the government was risking the safety of staff and students by lifting all Covid-19 restrictions whilst Covid-19 rates are climbing: Reopening plans put students' education & health at risk
6 July 2021
UCU says the UK government is wrong to scrap Covid-19 health and safety measures in colleges & universities and needs to get the vast majority of students vaccinated: Government showing a 'reckless disregard for health and safety'
10 May 2021
UCU has criticised the government's decision to resume in-person teaching at universities from 17 May saying it makes little sense for staff and students as most lessons will have already finished: UCU criticises university re-opening exercise
13 April 2021
UCU general secretary Jo Grady says that the UK government has consistently disregarded the needs of university staff and students throughout the Covid-19 pandemic and has treated them as an afterthought at best. This followed the announcement that in-person teaching can return no earlier than 17 May on the day many summer terms recommenced: UCU response to 17 May university return
12 April 2021
UCU said the UK government's decision not to lift restrictions on in-person teaching at English universities as part of the 12 April reopening was the right call: UCU statement on online learning at English universities
26 March 2021
UCU said Universities UK was risking the safety of staff, students and the wider public with its call for a full return to campus and resumption of in-person activities for English universities: UCU response to Universities UK's call for full campus return from 12 April
8 March 2021
UCU said several universities were breaching government guidelines over a return to in-person teaching: Universities flouting government guidelines over return to in-person teaching
22 February 2021
UCU said any wider reopening of college and university campuses from 8 March is irresponsible and risks undoing the country's hard work to get Covid-19 rates down: UCU response to prime minister's statement
8 February 2021
The Department for Education and Ofqual ran two consultations in January on the proposals for awarding grades for general qualifications and vocational and technical qualifications (VTQs) in 2021. You can read our responses here.
2 February 2021
UCU responds to university student support announcement
27 January 2021
UCU responds to prime minister's statement on lockdown and re-opening of school sites
17 January 2021
UCU threatens industrial action to prevent unsafe campus return this academic year
15 January 2021

Critical worker status guidance for members and branches in Wales [100kb] published.
14 January 2021
UCU response to OfS instructions to universities over latest lockdown

Key worker status guidance for members and branches in Scotland [96kb] published.
13 January 2021
Government told education staff must be prioritised in Covid vaccine rollout
UCU publishes

guidance for members and branches in England on critical worker status [100kb].
8 January 2021
Covid-19 higher education health and safety update
UCU welcomes Scotland online teaching announcement
7 January 2021
'Stay at home' mantra should to apply to universities too
6 January 2021
UCU says students must not lose out due to digital poverty during lockdown
5 January 2021
Move to online learning is a victory, but latest lockdown leaves staff and students in limbo
30 December 2020
UCU says government plans for a return to in-person teaching 'doomed to fail'
17 December 2020
UCU response to government announcement on January college return
2 December 2020
Government U-turn on in-person teaching at universities is a 'step forward'
28 November 2020
Government testing plan for students is 'recipe for chaos'
16 November 2020
Over 770 academics condemn UKRI treatment of PhD students
12 November 2020
UKRI must provide more support to PhD students hit hard by Covid
11 November 2020
Government guidance for student Christmas return 'riddled with holes', says UCU
10 November 2020
UCU response to Westminster government plans for student Covid Christmas testing
'We cannot risk repeat of 2020 GCSE and A-level results fiasco next summer'
4 November 2020
UCU and NUS issue joint statement calling on universities  to move online where possible for new English lockdown
3 November 2020
Union calls on vice-chancellors to move learning online
Online learning and the national lockdown
31 October 2020
UCU says universities must move online for new national lockdown
25 October 2020
UCU issues legal challenge over Westminster government's decision to ignore SAGE advice
UCU takes legal action against on campus health and safety
16 October 2020
UCU launches petition demanding universities move online as campus Covid-19 cases hit 20k
Watch and share the video:
13 October 2020
Government ignored scientists' advice to move university teaching online
9 October 2020
UCU Scotland says new measures don't go far enough
1 October 2020
UCU and the National Union Students issue joint statement calling for action over university Covid crisis
29 September 2020
Gavin Williamson 'clearly wrong' to say universities are well prepared for Covid crisis
28 September 2020
'Move universities online now': UCU's demand to PM
24 September 2020
UCU response to potential Christmas lockdown for students away from home
22 September 2020
UCU response to prime minister's new Covid restrictions statement
16 September 2020
UCU puts government and employers on notice as it launches Covid monitoring in colleges and universities
14 September
Jo Grady tells TUC a second Covid wave can be prevented, but unions must lead the way
10 September
Latest government university guidance and young people infection rates prove case for online learning, says UCU
9 September
PM's 'ridiculously irresponsible' plan to force students to stay in event of Covid outbreak
4 September
UCU response to SAGE report on Covid in higher education
3 September
UCU comment on Scottish government guidance on reopening university campuses
1 September
Is it safe to reopen universities and colleges? Catch up with our online event held in advance of colleges and universities reopening:
29 August 2020
Universities must not become the care homes of a Covid second wave
25 August 2020
UCU Scotland calls for face coverings to be mandatory indoors on university campuses
5 August 2020
Students support caution as universities plan return for new academic year
31 July 2020
New study demonstrates huge local economic impact of universities
Study shows Scotland's universities support tens of thousands of jobs and generate billions for the country
27 July 2020
​​​​​​​UCU members to defend most vulnerable staff as universities refuse to come clean on job cut plans
23 July 2020
Labour Party's seven tests for higher education and demand for government support
21 July 2020
Westminster government must follow Welsh lead in supporting colleges and universities
17 July 2020
UCU and NUS condemn government using Covid-19 crisis to impose restriction on universities
16 July 2020
UCU accuses ministers of using looming financial crisis to try and impose severe restrictions on universities
14 July 2020
Voters in marginal seats fear local damage from university cuts and want government to intervene
9 July 2020
Gavin Williamson speech response: Road to recovery must not involve cutting access to education
5 July 2020
Government must back universities as report warns of financial crisis
27 June 2020
Latest government support package fails to put students and staff at the centre of recovery plans, says UCU
25 June 2020
UCU Scotland has produced a new report which looks at the findings from the London Economics analysis of the scale of the likely impact of the Covid-19 crisis on Scottish higher education:

Protecting jobs in HE in Scotland from the impact of Covid-19 [176kb]
22 June 2020
Economic recovery group says Scotland's universities and colleges need protection from financial hit of Covid crisis
12 June 2020
UCU launches 'Fund the Future' campaign to secure universities and colleges
Anger as University of Portsmouth restarts process to slash jobs during Covid-19 crisis
8 June 2020
Covid-19 scientists' outcry at Imperial College's plans to axe vital staff
7 June 2020
Need for government to underwrite universities as report warns of huge loss in income from international students
3 June 2020
UCU has published

five tests for a safe return to on-campus working [156kb]. See the perspective from UCU Scotland.
Also today, UCU reports that almost a quarter of prospective students fear their university could go bust as a result of Covid-19 crisis..
2 June 2020
UCU response to plans for student number controls
UCU Scotland disconcerted over English student number cap
20 May 2020
​​​​​​​Universities' reopening plans are only adding to confusion
UCU calls for government support as poll shows students may defer study and consider changing university
19 May 2020
UCU calls for government support as poll shows students may defer study and consider changing university
14 May 2020
New UCU report published which looks at the findings from the London Economics analysis of the scale of the likely impact of the Covid-19 crisis on higher education. It includes guidance for branches on how to use the findings at a local level:

Protecting jobs in HE from the impact of Covid-19 [160kb].
See also the

London Economics' impact report for Wales only. [1mb]
3 May 2020
Government support package for universities doesn't provide protection the sector needs
1 May 2020
New guidance for academic-related professional staff issued: UCU is aware that some ARPS staff in areas such as IT and facilities will need to attend on-site as part of skeleton staffing teams, to ensure that their institution can continue to function and to provide and maintain essential services eg, IT support for online teaching and learning.

Please read our guidance for ARPS members here. [259kb]
24 April 2020
University of Manchester under fire for job loss plans
22 April 2020
Universities' £2.5bn 'black hole' will cost economy £6bn and 60,000 jobs, warns report
16 April 2020
Durham University must halt plans to slash teaching by 25%, says UCU
9 April 2020
UCU says Universities UK's proposals to support universities do not go far enough
2 April 2020
Protect universities and colleges now so they can lead recovery, UCU tells minister
25 March 2020
UCU general secretary Jo Grady has updated members on the situation with regards to the ongoing USS and HE 'four fights' disputes in light of the Covid-19 crisis.
24 March 2020
Research Excellence Framework postponement announced: UCU said the cancellation of the Research Excellence Framework (REF) is an opportunity to reform how research is reviewed and funding is allocated, and welcomed the news saying it was the only sensible move in the circumstances.
UCU calls on UK Research and Innovation (on behalf of all the research councils) to be flexible regarding deadlines for funding bids but more importantly to get them to support the continuing employment of fixed-term contract researchers during the current period:

UCU letter to UKRI: retention of fixed-term workers, 24 Mar 20 [202kb]
15 March 2020
Reballots postponed due to Covid-19; pickets cancelled but action continues
Last updated: 2 March 2022