•
•
•

The Friday email: 20 October 2023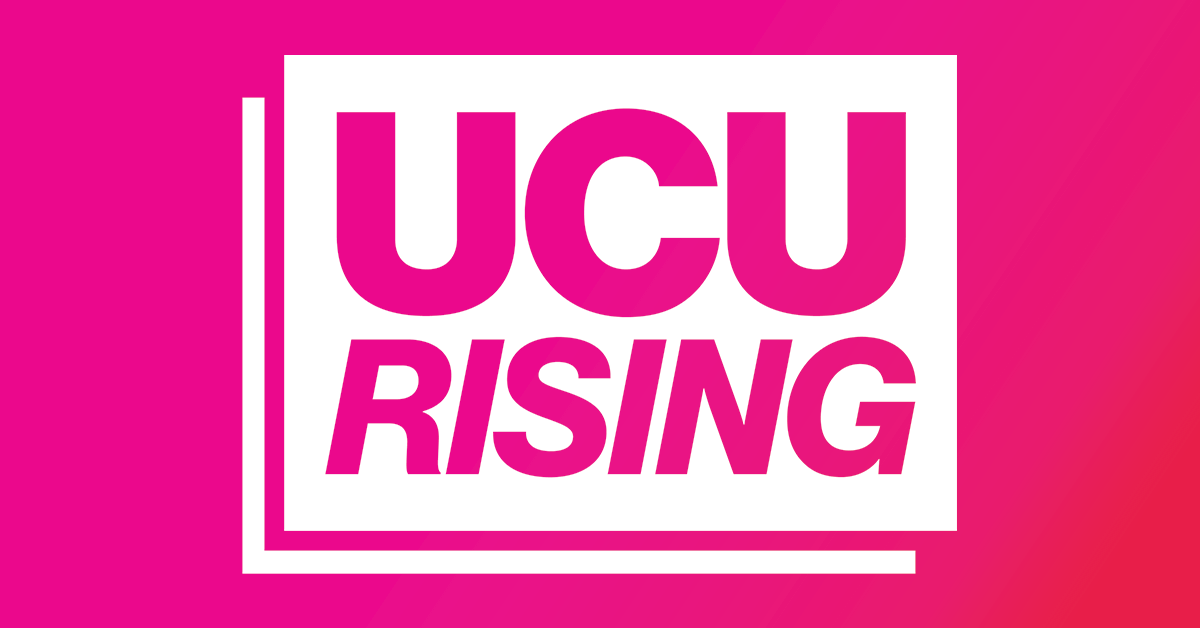 The Friday email: 20 October 2023
20 October 2023

UCU Rising: pension victory shows how we can win on pay and conditions
UCU members in higher education are today celebrating an enormous win, with a full victory in our USS pensions dispute. After five years of balloting, 69 days of strike action and a dogged refusal to back down our members have secured a full reversal of the 35% cut that was made to their future guaranteed retirement income and an additional one-off pension payment to help make good the money lost. The agreement also paves the way for contribution rates to be lowered, meaning more money in members' pockets every month.
We can build on the momentum of this agreement in our pay and conditions dispute. Watch back our UCU Live event from last night to hear how we plan to learn from our victories across the union to deliver the deal on pay, equality pay gaps, casualisation and workloads that our members deserve.
All members for whom we have not yet recorded a vote will be receiving a mailing direct to their homes early next week. If you receive one of these, please read it, post your ballot if you have not already and let us know using the link below, and take a photo with the poster enclosed, sharing with us on social media using #ucuRISING.
All members in the pay and conditions dispute will also be receiving a link to partake in our consultation on strategy on Monday. Members will decide on the next steps of our dispute, please make sure that you engage in the process.
You can continue to build our ballot and deliver another threshold-beating mandate by:
Respect FE: next steps
Last week UCU announced the full results of the Respect FE industrial action ballot in English further education (FE) colleges. UCU members in 32 employers have now gained a legal mandate for action after crossing the 50% turnout threshold and voting YES, and their employers face the prospect of hard-hitting strike action over pay, workloads, and national bargaining. Here are the next steps in the campaign:
UCU branches with successful strike mandates met at a strike committee meeting on Wednesday 18 October
elected representatives on UCU's further education committee (FEC) met on Friday 20 October to consider branch feedback and decide on potential strike action; strike action could only be formally called by FEC and we will disseminate more information on FEC's decisions as soon as practicable
UCU has a live mandate until April 2024 to call action if the industrial dispute is not resolved to the satisfaction of UCU members.
Strike at University of the Highlands and Islands in dispute over cuts and job losses
UCU members at the University of the Highlands and Islands (UHI) began the first of six days of strikes on Tuesday 17 October. The strike is over £4 million cuts the university is making, including £3 million from the staffing budget meaning that up to 44 roles are being made redundant. In the ballot approving strike action, turnout was 86% with 77% of UCU members backing going on strike to defend jobs and oppose cuts. Please send messages of solidarity to the branch.
University of Chichester's axing of African history course
UCU has slammed the University of Chichester management's threat to axe its unique history of Africa and the African diaspora masters and sack Professor Hakim Adi, the UK's first African-British professor of history. Professor Adi's course was created to train mature students of African and Caribbean heritage as historians; just 1% of UK professors are Black. Click here to learn more about the campaign from History Matters.
Strike action at Tyne Coast College off after management agree to Acas talks
Strike action at Tyne Coast College has been called off after the employer agreed to enter talks with the Advisory, Conciliation and Arbitration Service (Acas). Staff took a day's strike action last month and had been due to walk out on Monday 23 October as part of a long running dispute over pay. The action came after management imposed a paltry pay award of just 3%, which staff had overwhelmingly rejected.
Resources for Build the Union month
October is Build the Union month at UCU. Local workplace organising is at the heart of what the union does, and we know that colleagues having conversations with each other about the union, current industrial disputes, and the education sectors in general have an enormous impact.
To that end, UCU has produced guidance on 'Me + 10': the premise is that, if each of our members were to contact 10 of their colleagues to join the union, then we would build our membership and increase our leverage with employers. You can also find resources on workplace mapping, initiating recruitment conversations, and a branch newsletter template.
Education International LGBTI+ survey: call for proposals
Education International (EI) is the global umbrella union for education unions across the world. EI is looking for proposals to undertake research into LGBTI+ rights. Click here for more information including how to submit a proposal, and if you have any questions please contact Seth Atkin.
Help wanted on survey on impact of pandemic on equalities in research and innovation
Researchers at Heriot-Watt University working for the Equality, Diversity and Inclusion Caucus research centre (EDICa) want to explore the medium-term impact of the pandemic on equalities for those working in research and/or innovation. This includes researchers of all levels of experience, lab technicians, PDRAs, plus managers and professional who oversee research and innovation. Follow this link to find out more and take part in this important piece of research.
UCU response to events in Gaza/Israel
The union is utterly horrified at the violence towards innocent civilians that we have seen in recent days in both Israel and the occupied Palestinian territories. We send our solidarity to all those affected by these events, especially education staff and students.
We know that many of you will be worrying about loved ones, and to those grieving we send our heartfelt condolences. If you are affected or need support, please reach out to your local reps or regional office who will be able to let you know the resources available to you at your institution.
We are also aware that some of our members have been targeted for speaking out about these events, and that this targeting has unfortunately often been racialised. UCU has clear policy in defence of academic freedom; if you have been targeted in this way please contact your local rep or regional office for support.
The events of recent days are part of a continuing cycle of violence that has been the result of decades of brutal occupation. Achieving a lasting peace in the region must start with an end to the occupation and a recognition of the rights of all people.
Tomorrow, Saturday 21 October, 12:00 - 15:30 our general secretary Jo Grady will be speaking at Palestine Solidarity Campaign's March for Palestine - Stop the War on Gaza. UCU members will also be carrying the national banner as part of the trade union bloc. Attendees are asked to meet at Marble Arch, London.
In solidarity
Simon Foster
UCU head of campaigns
Last updated: 23 October 2023