•
•
•
•

Three day strike over low pay goes ahead tomorrow at 11 colleges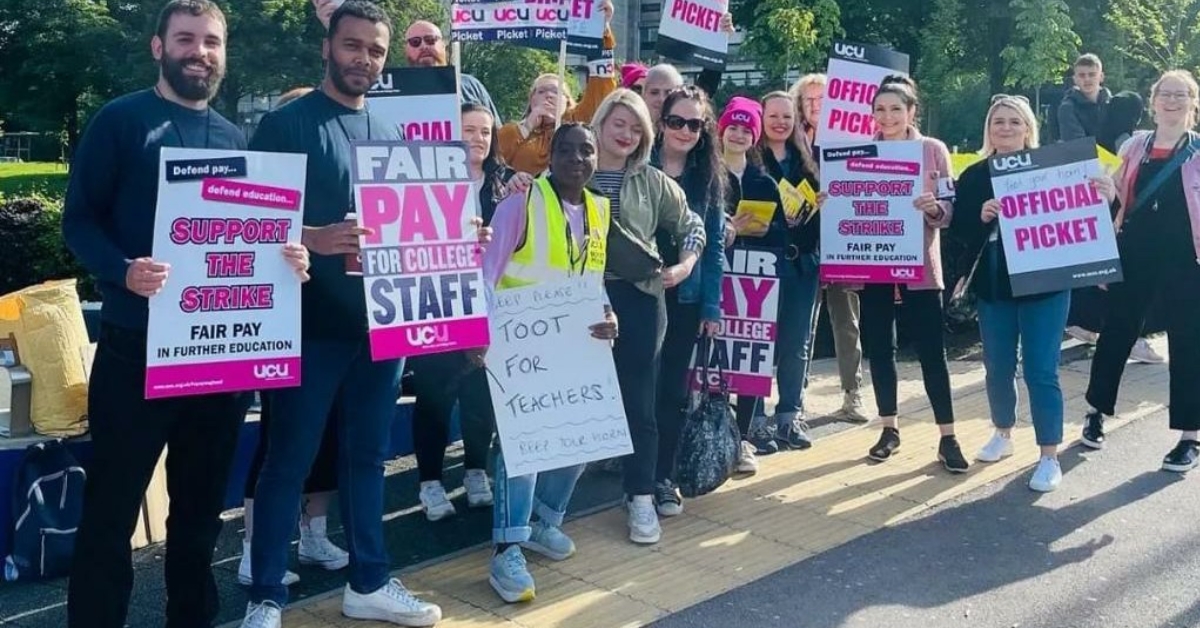 Three day strike over low pay goes ahead tomorrow at 11 colleges
13 November 2023

Staff at 11 colleges across England will be on picket lines tomorrow morning as they begin three days of consecutive strike action over low pay and poor working conditions.
The full days of strike action are:
Tuesday 14 November
Wednesday 15 November
Thursday 16 November
UCU said it is very disappointed some hold out college bosses have refused to give their staff the pay rise they deserve, given the union has called off strike action at 32 colleges after receiving pay offers at or above employer body, the Association of College's, recommended 6.5%.
UCU general secretary Jo Grady and president-elect Maxine Looby will be on picket lines at Capital City College in London on Tuesday, Loughborough College on Wednesday, and Bolton College on Thursday.
Union members are also holding a rally tomorrow demanding respect from college bosses. Speakers include UCU general secretary Jo Grady and representatives from other further education unions. The rally will begin at 12pm at the Emmanuel Centre, 9-23 Marsham Street, London SW1P 3DW.
A UCU survey of college staff shows that almost all are struggling financially (96%) because of low wages with four in five survey respondents saying their financial situation is impacting their mental health (79%). It shows many staff have to use foodbanks, as well as ration hot water and heating because their pay is so low.
Government increases to English college funding mean the sector is getting £3.4bn this year, £924m more than it did three years ago (2019/20). One hold out college, Craven, has seen its funding jump by 58% over the past three years, to £8.7m. Principal pay across the sector continues to soar. In 2021/22 the average increase in principal's pay was four times higher than that recommended for staff in that year.
UCU general secretary Jo Grady said: 'Our members are being forced to take three days of strike action because some college bosses would rather see their staff use foodbanks than give them a cost of living pay rise. New money from government has now arrived and many colleges have done the right thing and raised pay by at least 6.5%. The funding is there, where employers can pay more, they should pay more.
'Members have voted to stand down action at colleges that have acted reasonably and tabled a decent pay offer. But where bosses are hoarding money, instead of investing it in staff, we will not shy away from striking.'
Last updated: 16 November 2023