•
•
•

Early careers guide
Early careers guide
Working in post-school education is one of the most rewarding professions there is but starting a new career can be daunting. The UCU early careers guide is for those who are new to or considering a career in further or higher education.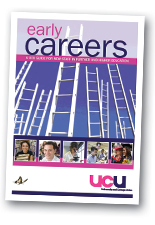 It contains professional guidance on:
finding the right job
what to expect when you start work
tips on getting the most from your career
practical advice on what to do if you have a problem at work.
This is an invaluable resource which will assist you throughout the early stages of your career.
In addition to material provided by trade union and education professionals there are contributions from younger members, so the guide is based on the real experience of staff in further and higher education.
You can help publicise the guide by downloading and printing off the promotional leaflet below to put on campus noticeboards.