•
•
•

Adult, youth and community education staff
Covid-19

Please note that the latest advice issued by UCU here also applies to members working in adult and community education.

We have been in touch with Holex, the lead professional body for adult community education and learning, who have produced this advice to providers.

The Holex advice is helpful in that it confirms the DfE advice that adult education centres should close except for vulnerable learners.

The advice also states that employers may want to ask sessional staff to continue to work remotely. We will also be calling on the DfE for a clear statement that there will be no 'claw back' of funds due to the crisis. However, our position is clear. All staff - including sessional staff - should continue to be paid and should suffer no financial detriment as a result of the crisis.

Lastly, the Holex advice mentions asking staff to help out with the wider community work being undertaken by providers. We have no objection to staff being asked to undertake alternative work on a voluntary basis subject to the usual risk assessments being undertaken and the necessary health and safety provisions being in place. However, no member should be required to undertake such work to prevent financial detriment.

If you have any queries please feel free to Jane Thompson, UCU bargaining and negotiations official.
Adult, youth and community education staff
Information for UCU members working in adult and community education.
UCU actively supports members working in adult and community education (ACE) outside FE colleges and have a number of established branches. With the this network is especially important.
We hold an annual meeting for branch delegates from UCU branches working in adult and community education and employed in local authorities or the voluntary sector. You can find information on adult and community education pay here: Adult, youth & community worker pay
---
Help recruit your colleagues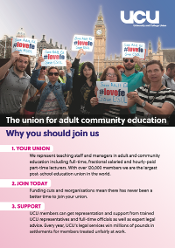 Print out the poster, leaflet or letter below to put on your workplace staff notice boards:
For printed copies please email campaigns@ucu.org.uk and state quantity and full postal address.
Last updated: 24 July 2020