•
•
•
•
•
•

Million Women Rise - London, 8 March 2008
Million Women Rise - London, 8 March 2008
8 March 2008

Together we can end violence against women.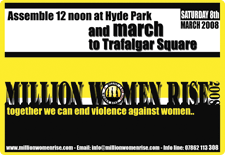 The Million Women Rise march on International Women's Day 8 March 2008 is open to all women and children.
Read more on the website: www.millionwomenrise.com
Why YOU should support the march in London on 8th March 2008
Are you outraged by the violence that women experience?

Every minute of every hour of every day
That breaks the hearts, minds and souls
That traces backwards to our grandmothers and forwards to our daughters
Have you the heart, passion and compassion
To extend your hand of solidarity?

United and connected we can change the world TOGETHER!

Will you hold the vision of a future for women free of violence?

TOGETHER WE CAN STOP VIOLENCE AGAINST WOMEN!

Women's right to live free from violence and/or the fear of violence has not been achieved. Women continue to be attacked and violated in many different ways, in our homes, in our streets, on our public transport, at our places of work. The government, the TV and newspapers do very little to address this issue; instead they often blame women for wearing the wrong clothes or being in the wrong place.

If you think this needs to change, then join us on a public demonstration to show those in power that it's just not good enough! We need to show our mass dissatisfaction; we need to be strong together and in large numbers. Unity is strength; the voices of many are louder together than a single voice.

If you want to see change for yourself, your children, your families, your communities then come out and say no to violence against women!
Last updated: 29 January 2020