•
•
•
•
•
•

Green Skills Workshop: Turning Policy into Practice
Green Skills Workshop: Turning Policy into Practice
The UCU will be hosting a Green Skills Workshop on Monday 6 June 2011 from 10.30 -16.00.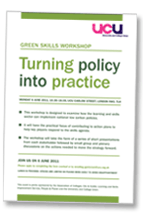 It will be held at our head office, Carlow Street, London, and will examine the role of the learning and skills sector in moving to a low carbon economy.

We have teamed up with the Association of Colleges, City and Guilds, Learning and Skills Improvement Service, and People and Planet to push forward the debate on greening the curriculum. The title of the workshop Turning Policy into Practice reflects the urgent need to speed up the green skills implementation process in FHE institutions and local communities.

Speakers will present on two linked themes - the demand and supply side of green skills. However, the focus will on maximising participant input around practical implementation proposals rather than policy development.

The event is free.

Download the agenda/application form to find out more and to register [31kb].
Last updated: 29 January 2020