•
•
•

The Friday email: 1 October 2021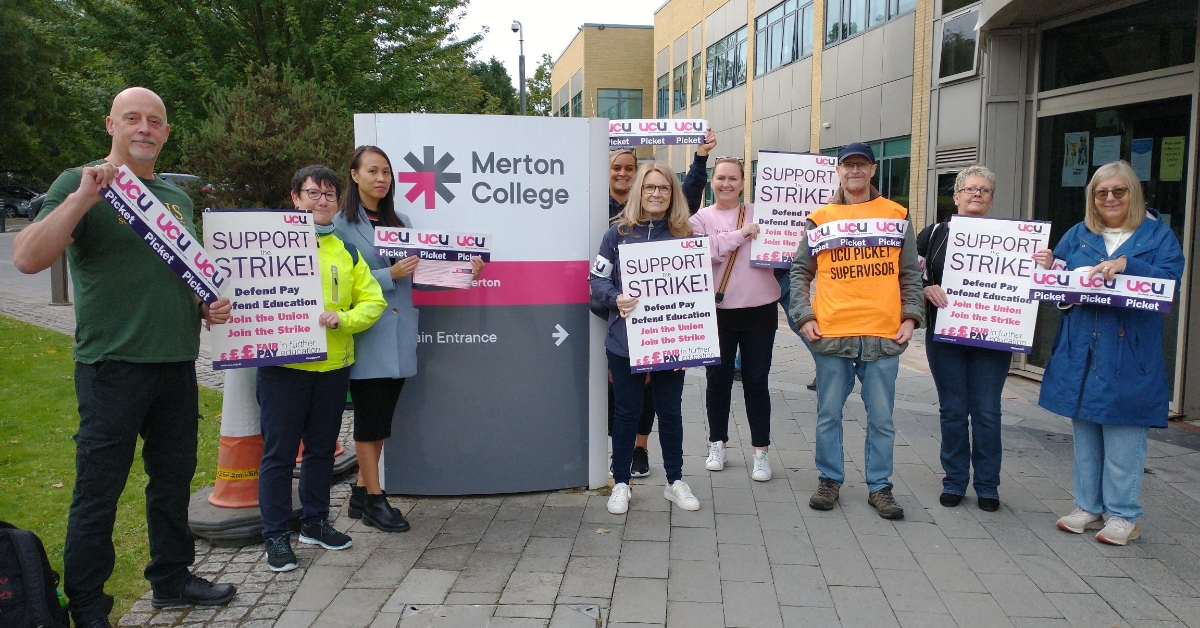 The Friday email: 1 October 2021
1 October 2021

Further education disputes: #JusticeForCollegeTeachers; Weymouth members secure pay deal
Staff at 10 English colleges were on strike this week in their fight for fair pay. The dispute has come about after a paltry pay offer from employers of just 1%. Our industrial action has received amazing support both on the picket lines and on social media, with many messages being added to our wall of support. The strikes will continue next week, and you can post your messages of solidarity on social media using the hashtags #JusticeForCollegeTeachers and #FEstrike, or email the UCU campaigns team.
Following a fantastic ballot result and the threat of strike action, Weymouth College members have now voted overwhelmingly to accept a deal negotiated by UCU on pay and other conditions to settle the 2020/21 pay dispute. The deal includes a backdated 2.2% pay increase, improvements to TOIL and flexible working policies, and limits to scheduling and frequency of staff meetings that might otherwise impact on members' health and well-being and their ability to take proper breaks. Well done to Weymouth UCU members and branch officers for what has been achieved, as a result of their engagement and willingness to take strike action if necessary.
Higher education disputes: resolution at University of Liverpool
The long-running dispute at University of Liverpool has ended as UCU won the battle to avoid any compulsory redundancies. The six-month campaign had already resulted in an international academic boycott, 24 days of industrial action, and a marking boycott against plans that would have originally seen 47 jobs lost in Liverpool's faculty of health and life sciences. Five additional days of industrial action were planned, starting on Monday 4 October, but are now cancelled. Congratulations to University of Liverpool UCU branch committee, UCU members, and our regional officials in north west England.
Please read our roundup of disputes and wins for members in all our sectors.
New UCU resource on fighting casualisation
'Fighting casualisation: what can I do?' is a new UCU resource developed in association with our members on casualised contracts and with our anti-casualisation committee, providing ideas to all members on how they can support the fight against casualisation—from including colleagues in tea clubs, challenging management narratives, and supporting colleagues taking industrial action. Have a look, share widely, and send us your feedback.
October is Black History Month
October is Black History Month in the UK, an annual opportunity to reflect on the contributions of black leaders throughout history and the continuing struggle for racial justice in the UK and beyond. This year, to mark Black History Month, UCU will be hosting a national online discussion event on Wednesday 20 October from 6.30-8pm. With speakers including Clive Fraser of University of Leicester, Savannah Hanson from Sheffield Students' Union, and Nira Chamberlain from Loughborough University, the event will consider how historical events link to contemporary challenges facing black staff and students, including black students attainment, the race pay gap and systemic racism. You can register here and please do spread the word.
November is COP26
COP26 is only five weeks away—get involved in building the movement! Plans are coming together, but there is still a lot of work to do in the coming weeks to make sure the call for climate justice is loud and clear. UCU is a member of the COP26 Coalition which is working hard to help organise and support mass mobilisations across the UK and the world, support activists to get to Glasgow, and crafting the hybrid People's Summit as well as a range of other actions and assemblies to ensure our voices are heard in Glasgow. UCU wants to help make these activities a success and play our part in mobilising our members into supporting the movement by organising, volunteering, or spreading the message over the coming weeks. Check out UCU's Guide to COP 26 and find out more on how you can become involved.
Also in November: UCU LGBT+ research conference
The 2021 UCU LGBT+ research conference, entitled 'LGBT+ liberation: LGBT+ lives and issues in the context of normativities', will be held online over three 2.5-hour sessions, from Tuesday 2 November to Thursday 4 November. Registration to attend this conference is now open; please follow this link.
Lord of the Fees; Labour Party conference
UCU has responded to the Higher Education Policy Institute (HEPI) report, 'Boosting higher education while cutting public spending', authored by David, Lord Willetts, in which he proposes to hit lower-earning graduates with tuition fee repayments. Click here for a statement by UCU general secretary Jo Grady.
Jo Grady was busy at the Labour Party conference and The World Transformed Festival in Brighton. UCU organised two main events: one conference fringe focusing on organising against marketisation to win public education for the public good after the pandemic, and another on organising against sexual violence in the workplace and our communities. Speakers at the first event, alongside Jo, included Shadow Secretary of State for Education Kate Green MP and John McDonnell MP. At every event Jo spoke at, she was explaining, and building support for, our disputes over USS and Four Fights.
UCU is once again asking for your...
... updated contact details. Please check your contact details through MyUCU; this will be crucial in the coming weeks for our ongoing disputes and campaigns.
Last updated: 7 October 2021