•
•
•
•
•
•

Fees cap vote: rally, lobby and protests
Fees cap vote: rally, lobby and protests
UCU and NUS are sponsoring a rally in Westminster on 9 December, starting at 3pm, following a lobby of individual MPs, and coming a day after local protests take place across the country.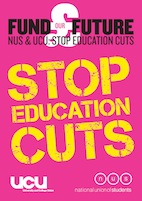 RALLY - please try to come
The rally has been called just ahead of the crucial vote in the House of Commons on increasing the cap in student tuition fees to £9,000 per year.
Please show the strength of feeling we have about defending education by gathering together at the official rally UCU and NUS are sponsoring at Westminster on 9 December, starting at 3pm on Victoria Embankment at the junction of Derby Gate, please click here for a map showing the location.
All members are asked to contact their branches with regard to any coach arrangements - or about any local events taking place on 8 December. Those travelling by public transport are asked to use Charing Cross and Embankment stations as we anticipate Westminster station may need to be closed.
The rally has already received official support from the TUC, NUT, FBU, RMT, PCS, GMB, CWU and NUJ with other trade unions, members of parliament and public figures adding their names all the time. See below for a list of speakers at time of writing.
As the rally closes, we will begin a 'candlelit vigil' at 4:30pm, aiming to create 9,000 points of light - one for each £ of the proposed new tuition fee limit.
UCU and NUS have worked constructively with the police in organising these official events. Our aim is to protest peacefully, respect the rights of others and ensure the safety of all, especially children.
About the lobby

A lobby of individual MPs will take place from 1-3pm, on 9 December immediately prior to the rally. Numbers and MP 'availability' will be limited.



Stop tuition fees - how to lobby your MP [184kb]


Read the member's lobby briefing [43kb]
Advice for members
UCU wants to maximise members' participation in the protests on the 8th and 9th. However members should of course ensure they fulfil any contractual obligations they have on either day. As with the 10 November demonstration, many employers may provide dispensation for some staff to travel to the London rally.
Many members have asked what the union's policy is with regard to the attendance of school children at our events.
Can't get to London?
If you are unable to be present, please contact your MP in advance of Thursday's vote and urge them to vote against the fees increase using: www.writetothem.com
UCU and NUS have also called for institution level protests on 9 December, so if you can't get to Westminster, please support whatever activity your local branch does.
Events on the 8th
We don't have a full listing of all events taking place nationally on 8 December, but here are some we know about:
Southampton University
Wednesday - the will be joining a SU march - meeting at the city Guildhall and then marching into the city centre
Southampton Solent
Wednesday - as above
Thursday - The branch have organised a mini bus to take members and staff to the Rally in London
Southampton City College
Wednesday - as above - also the branch are encouraging all their members to contact their MP
Winchester University
Wednesday - The branch are working with the student union and Unison to organise a march from the campus to the city centre for a rally
Oxford and Cherwell Valley College
Wednesday - The branch are holding a lunchtime protest (see attached) re fees increase and EMA.
Reading University
Wednesday - The branch are joining with NUS and other interested local groups to march through the city; some of the branch will be dressing up as bananas to highlight how 'bananas' theses rises and cuts are.
Speakers confirmed so far for the UCU/NUS rally:

Sally Hunt, UCU
Aaron Porter, NUS
Rt Hon John Denham MP
TUC speaker - Brendan Barber/Frances O'Grady
Rt Hon Peter Hain MP
Bob Crow, RMT
Lisa Nandy MP
Lilian Greenwood MP
Jeremy Dear, NUJ
Emily Thornberry MP
Paul Noon, Prospect
Jon Trickett MP
Nina Franklin - Senior VP NUT
Carly McKenzie, UJS
Paul Blomfield MP
Jeremy Corbyn MP
Katie Dalton, President NUS Wales
Billy Hayes, CWU
Caroline Lucas MP
Zita Holbourn , PCS National Executive
Paul Farrelly MP
Sharon Holder, National Official GMB
Luciana Berger MP
Kevin Brennan MP
Nabil Ahmed,FOSIS
Unison speaker
BYC speaker TBC
Jonathan Reynolds MP
John McDonnell MP
Teresa Pearce MP
Rt Hon Frank Dobson
Last updated: 29 January 2020